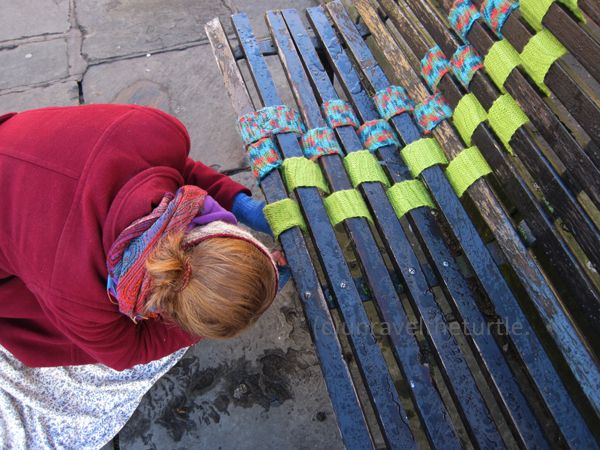 Myself working on my knit-graffiti bench piece! Headed down to york at 8:30 am today for the 'Yarn Bomb' event, being executed by the York Art Gallery. They were closing for refurbishment and created this really fantastic event to send the gallery off with a bang as well as get people to interact with the space.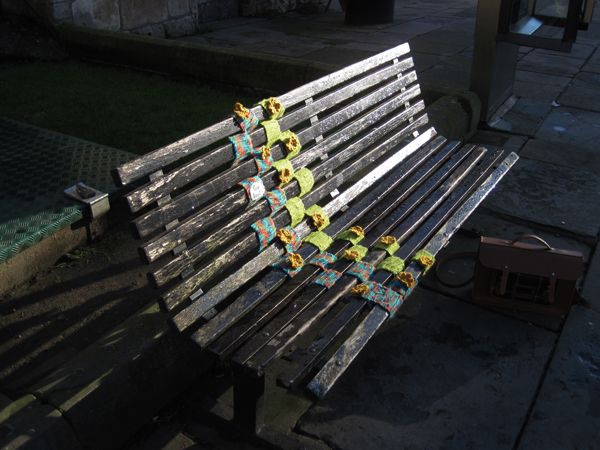 My completed bench weaving! It took ages to put onto the bench, and if I'd known how far a ball of wool (each of those colours is an entire ball of wool!) actually went on the bench..I probably would have used at least two more! It worked really well though, and people came over to look while I was putting it up.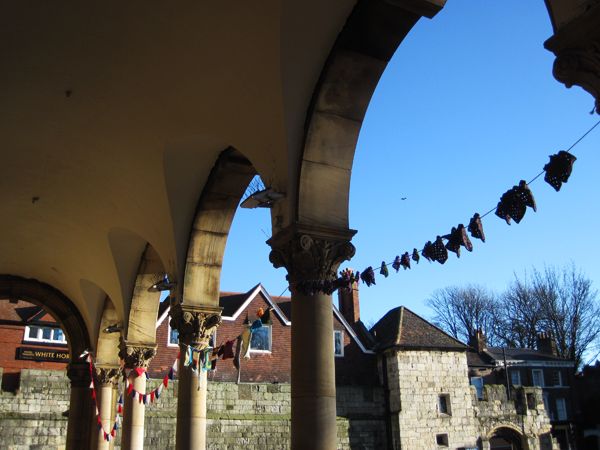 I, as a person who occasionally dabbles in knit graffiti, was really pleased to see how many people actually got involved in the project! Streamers and knitted flags, hats and little creatures adorned everything across the square. There were even tiny flowers tied all over the cord on the pay phone (a personal favourite of mine!).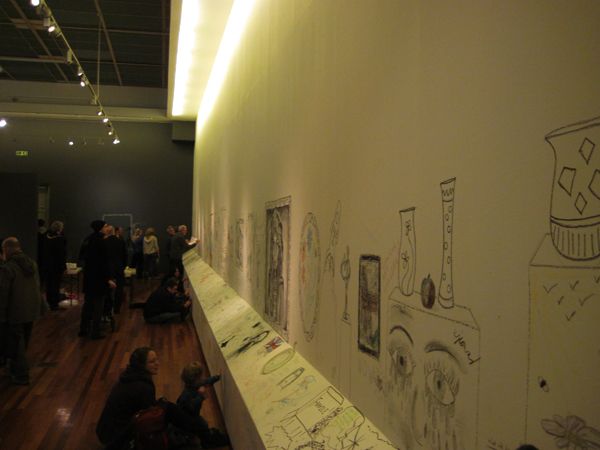 Inside the galley, there was something very exciting going on. It was like...an open art exhibit that was solely based on the public and their participation and interactions with the space provided. The rooms were littered with buckets of chalk, pens and pencils, markers, and charcoal, and you could draw whatever you liked across any area of the gallery walls. It was fantastic to see so many people exploring the art gallery and getting involved with the project. I'm sure it helped raise awarenesses of the gallery as an area of York.
The walls of the gallery were different colours as well, so you could see different uses of that in people's work as well. Here is a viking man that Jim drew! People were utilizing the walls, the lower wall areas near the floor (mostly by children), and the sloped area where I can only imagine there was probably museum labels describing the works of are on display. It is wonderful to see people becoming so engaged in their involvement with a museum/gallery!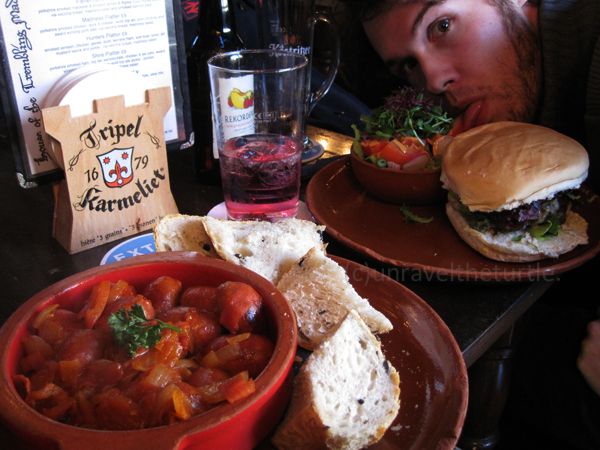 Lunch break, and we were off to the House of Trembling Madness! I'd never been in before, but we had to go..because it's a medieval drinking hall and who doesn't want to have lunch there? What I ordered was off the 'snacks' menu...and it was definitely too much food for me to eat at once! Pictured here is the lunches, with a Jim bursting into the photograph...
After lunch we returned to the gallery to see how things had progressed (and to add a few crocheted sea-animals to a pillar). Fantastic! The walls were riddled with art work done by people of all ages, and everything fit together on the walls as if it was all meant to be part of one larger image. A brilliant last use of the space.
I was also particularly pleased to see how many people were using the 'leave your comments' section on the way out, comprised of colourful post-its and rainbow pencils hidden in the wall~ I know how important visitor feedback is to a gallery/museum, and seeing so many of them being used is heart-warmings~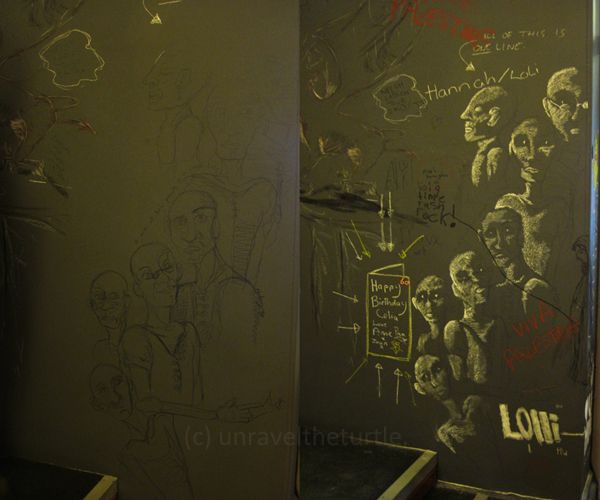 Finally, the last thing I drew in the galleries today was a series of scary looking bald people, that were all drawn with one continuous line. One line drawings are very fluid, I find. Unfortunately I used such a dark pen that it was hard to see it on the bluey-grey wall. After lunch we came back to find that someone had highlighted the drawing with white chalk, bringing it all to life! I thought this was a good example of the nature of this interactive gallery exhibition, allowing the public to interact with other's artwork in whatever manor they deemed fit, and to alter and change it to fit their interpretations.
All and all, it was a fantastic day out! I'm very glad the York Art Gallery put on this event, and I hope their re-fittings go smoothly~