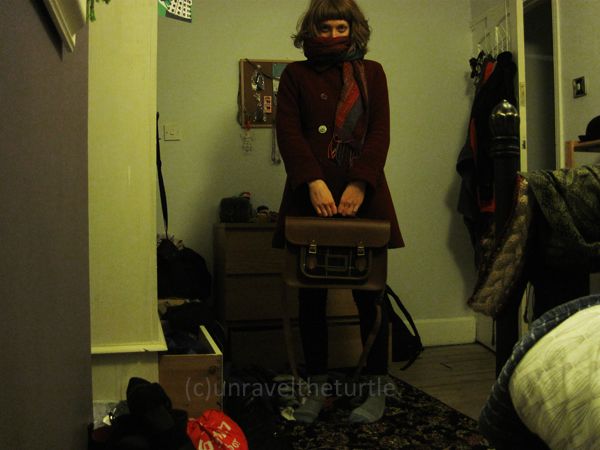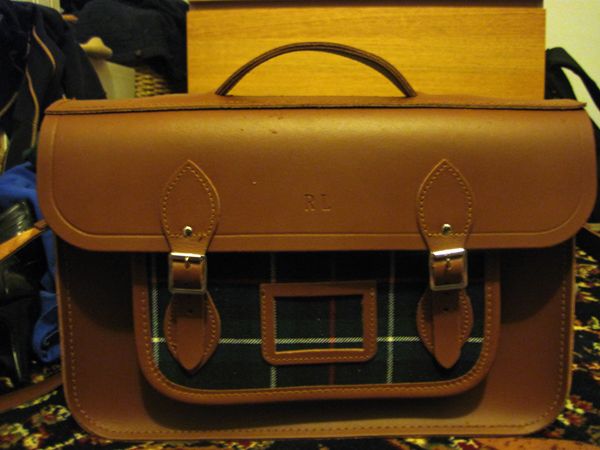 Good evening everyone,
I probably shouldn't really be blogging as I do have mountains of work to do. But then I remember how much work I did today, so I think it's ok this evening. For a little while anyways.
There is still loads of snow in merry land of Durham, and it was coming down pretty heavily this afternoon. I didn't start my day with snow though, I started with with a very strong cup of tea and an excited look at the tracking number on my satchel.
It said 'Out for Delivery-from Newcastle'. So maybe it would arrive before I had to go into town?
And it did!
I now am the pretty darn pleased owner of a Cambridge Satchel Company satchel. Or batchel, which is what they call the larger ones with handles on top for some reason? I am pretty sure I could injure someone with this thing too, it's very well constructed and extremely ridged (due to the construction technique as well as the thick, lovely leather). And it has my initials on the front which is super awesome...because...mine. :)
So off I trundled to class, my magnificent bag haphazardly breaking the ribs of anyone who walked near me, the snow pouring out of a grey sky.
It turned out that my Medieval class, which was supposed to involve an interesting walking tour of the medieval things in Durham, was cancelled so instead of being on campus an hour early, I was now in fact 4 hours early for my other class.
So I did GIS work in the arky computer lab for those 4 hours, and had to ask various people for help because I am bad a computers (and especially bad at computers when I forget things like..oh...how to find and separate the data...-sigh-)
But most of the GIS assignments are finished, and the lecture was good, and I didn't have to wait long for the bus, and then I made a fantastic pasta dish. Any dish that involves meat is usually a big deal in my books! I don't cook meat (except bacon) all that much!
Oh! And yesterday I went down to Darlington with a couple of people for this Heritage Skills in Education thing that we are doing. I didn't know it was a competition until the other day, but apparently yes! I had to do a bit of survey work regarding the collections, and then we managed to use a theodolite to survey half of the property in the freezing cold and snow (took nearly 4 hours). It's since been turned into a really fantastic map, and I am so pleased that all our survey work has turned into something that...that actually worked! It's fantastic that the department lets arky students sign out the surveying equipment, it's great practice!
And now...to finish the report for said GIS assignments and wish and I more popcorn. (anyone want to bring me some? )
ps. Sorry for the lack of posts! I haven't been up to much of anything exciting lately, other that...going to classes and laying around the house? And Darlington.
A week tomorrow I'll be in York for...something pretty cool! You'll see ;)