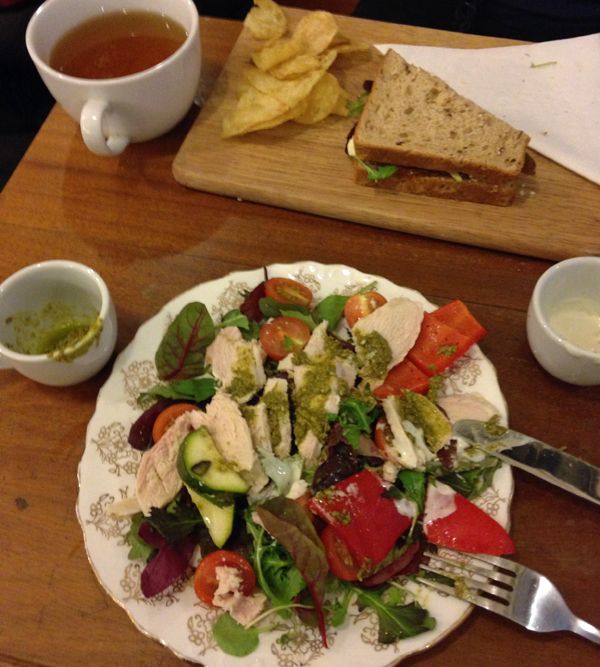 photos taken by your's truly, on Kelsey's almost dead Iphone
Today Kelsey and I had a load of errands to run in town. I mailed off an application to dig in various northern located countries, and we made sure Kelsey had a card to send to her dad, and picked up other loose ends. The weather even managed to hold out long enough for us to walk around for ages!
Then we shuffled off to a cafe down an alleyway (because it's Durham...everything cool is down an alley, it seems!) All you could see from the main street was a few wire-frame chairs and the cafe sign. Upon walking up to the adorable red doorway, I started grinning. The interior looked like...well, everything I love, pretty much!
I seriously match the interior of this place, in my day to day life. Kelsey even helpfully pointed out that they play the same music that I listen to most of the time. It's awesome. And as an added bonus, the legs of all the main tables (all the 7 tables) are made of re-purposed sewing machine tables. The kind with the machine build in and the peddle on the bottom? Yah. They took of the top and replaced it with an actual table top, but most still have the peddle and even the wheel on the side! I love it.
So we trundled up to the counter and I stared up at their delightfully-typewriter-looking-menu, and asked if they had Soy Milk.
Of course they did, so latte for me!
Then I asked if they had/could do gluten free stuff, while looking at the baked stuff. The girl apologized for the lack of GF options. Then I looked up and said 'oh, you have jacket potatoes!' (because I wasn't actually reading the menu before, so much as admiring the typeface) and she went 'Oh I thought you just the baked goods! We can make anything up there into a salad if you like!'
I don't really like lettuce, but rocket is nice! So I had a chicken and roasted veggie salad over rocket with pesto.
Let it be known. on January 8th, 2013, Robyn did knowingly order a salad on her own freewill, for the first time ever. And there was nothing left of it. Because it was freaking fantastic.
Flat White, I applaud you and your custom food, and your tiny setting, and your lovely staff. I shall return. x