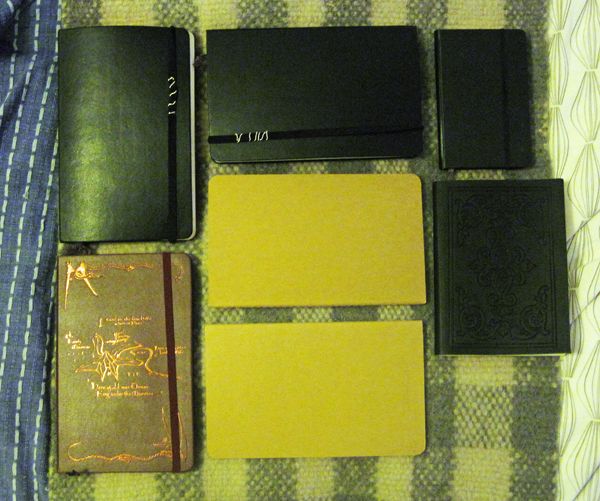 Today I emerged from my cavern to dress up like a real person and wander out into the grand wide world. Wander, I say, really as far as the bus stop into town, to read off to the library for 4 hours and sit in the basement trying not to throw books at a man who was coughing in the corner. More to follow on that in a cartoon tomorrow though!
So there is what I wore on my first day into town since monday, and I still like skirts! This is of no surprise to me, really~
And there...is my current pile of notebooks, all but one of which are moleskines. The top left is my journal from 2 years of field world, beside it is my...school year abroad's journal? Below in red/brown is the special edition Hobbit moleskine which Kelsey got me for Christmas. In the middle are two sketchbooks from Christina for christmas! There was three, but I gave one to Kelsey, as she rather needed a journal too~ :) The tiny one is my dayplanner book for classes/everything, and the fancy leather covered one is from Mike from Christmas.
I have a notebook problem you guys. But feel free to keep stoking that particular fire! I record my life's adventures for future reading my myself or whatever.
So yes, I must finish some work on the weekend but really I just have to do some citations. Ah, such is the life of a university student. If I lived here all the time, I'd be graduating this year! D: