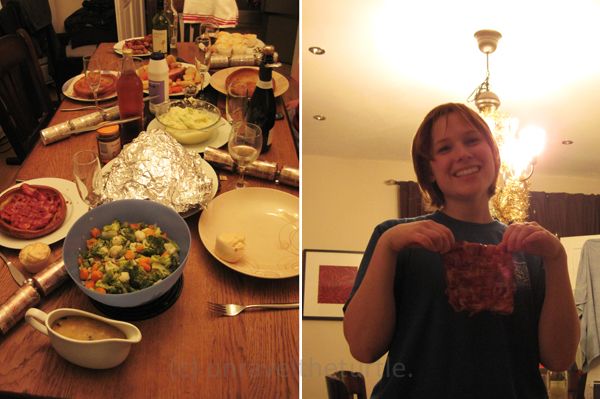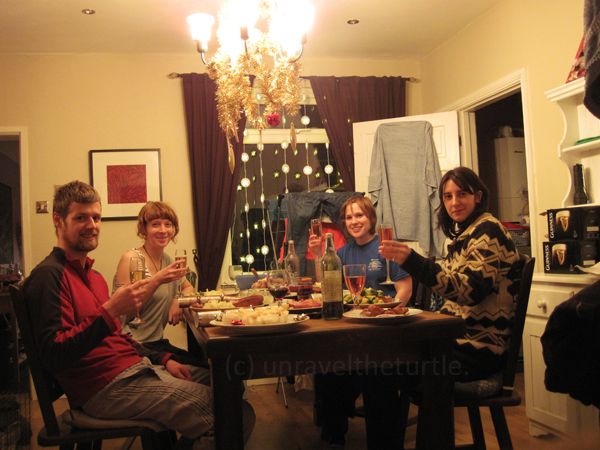 Yesterday we held House Christmas, because Davina left this morning to head home for the holidays. Friday was the last day of academic classes for the semester/term/whatever as well, so it seemed fitting.
In the morning, between writing things I'd forgotten about and working on my resume I baked corn-muffins. I didn't actually have any cornmeal though, because that doesn't seem to be a thing that happens over here (and I may have forgotten to look very hard), but I had corn flour! So it was attempted, and actually turned out pretty well! They are very light and fluffy and Kelsey is determined to put strawberries and cream all over them.
By the time I got home from classes, the chicken was already in the oven and various other things were being prepared. Mike was putting the gammon (that's ham, everyone) into a pot to boil because we didn't have enough oven space to roast it for the entire time. Davina was getting the small meat orderves ready to go into the oven as well. I got the veggies on to boil while Kelsey bacon wove her bacon plate. (I also attempted one, but not in the oven so it fell apart pretty quickly and I ate it). Potatoes were pealed and mashed and roasted, and parsnips were roasted beside the chicken. Mike prepared gravy and the bunnies got all the peelings from the carrots!
Eventually it was time to put our insane amount of food out on the table and find loads of champagne flutes. I said before we ate, I needed a group picture of us all at the table, because that is what my family always does at home and I wanted to get one of everyone here~
The food was wonderful, and we all wore our little paper crowns and ate far to much. Mmmm~
After dinner we cleared the table, and retired to the living room under piles of blankets with wine and opened Christmas presents. It was very lovely! (thank you family!!).
We have the Hobbit board game now...which will go perfectly with us going to see the Hobbit tonight!
Merry House Christmas everyone! x