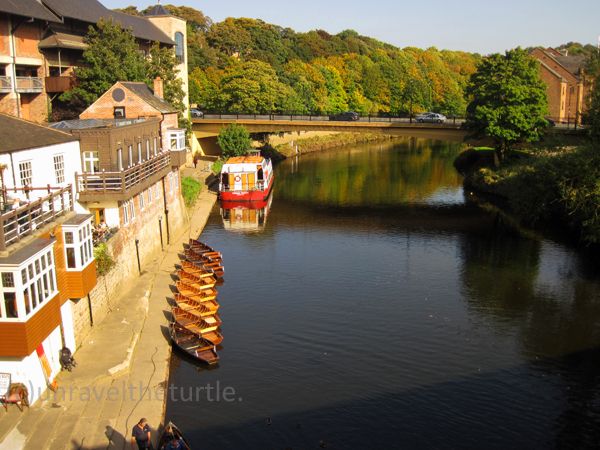 So it's Thursday now, correct? I've nearly made it through my first week of classes!
(cue gasps, I know we start late over in the magical land of Durham. I'm going to pretend its because everyone is so entranced by the cathedral to remember we have to do work)
My first lecture was on Monday, and it was a topic in the module called Specialized aspects of Archaeology...'Sex and Shopping'. It's urban archaeology, looking at how towns developed, and how the common man lived and stuff. We got to look at maps and figure out where the outskirts of old towns were based on the location of things like the Cow Markets, and stuff, and it was really cool!
In that class I feel like I'm a wee bit behind everyone, because all British stuff and occasionally comments are made such as 'And you'll all remember this from X class in first year'...but I'll pester the prof until I know everything. And I guess go to the library and read everything too. ;)
Second lecture was bright and early at 9am (Calgary folks, there are no 8am lectures here! People seemed shocked by a 9am one!). Museum Archaeology. I'm a bit ahead of the class I feel, from what she was saying about what we are going to 'begin to look critically at exhibitions' and such. Coming from my museum-studies background at home...I am going to be comfortable in this class!
We also had to go around the room and talk a bit about ourselves, and I didn't feel like I was going to die. So...That's good! Progress people, Robyn is making some speaking-to-more-than-one-person progress over here!
Third class, which wasn't til 4pm on Tuesday (I went home and came back) was Archaeological Illustration.
I really don't need to say more about it that just installing the image of me grinning like a crazy person and/or silently shreeking and clawing at things from excitement. DRAAAWRING THINGS! No essays, no presentations, not tests. Drawing things. And I begrudgingly admit that Harold and Kate's making me learn some Autocad this summer is going to be super helpful in this class as well...even though I don't like it much, I've got some stuff down pat for map making! Go me!
I didn't have lectures yesterday, but I did get loads more food from Tesco, and then met Davina in town to go visit a mildly Socialist bookshop (it had some cool old books!) in an attic. That's when I took those pictures as well. Then we got some Chocolate, came home...and started watching Wolfman! Partway through, newest housemate Mike came home, and...none of us moved from the couch for the next few hours. We watch Wolfman, Sweeney Todd, went to the shop for snacks, made popcorn, watched Indian Jones, and the first half of the extended LOTR Two Towers.
Yay!
Well...that's enough writing for today I think!
Maybe I'll get some books out of the library or something today. Or...or look at the Cathedral. :D Then get books?