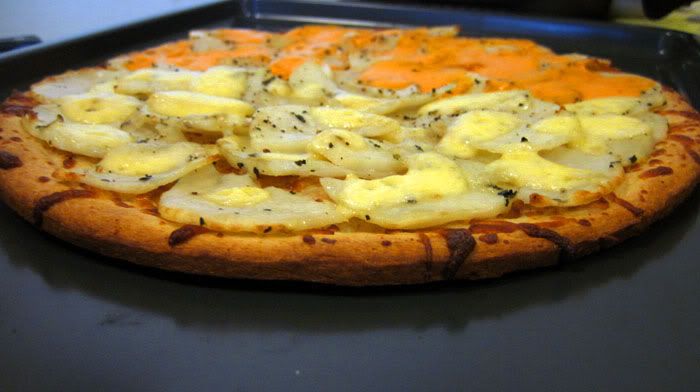 My roommate Katelyn and I decided that during this year's reading week we would actually cook something nice every day! We went on a huge grocery-shop and got enough food to last us until probably mid-late March, and sort of planned out meals for the rest of the week!
Today I made us
potato pizza
! We opted out of making the pizza dough ourselves, but that might be attempted sometime in the future... hmm..
You slice the potato up as thin as you can, and coat them in a bowl with 1 tbsp of olive oil and some basil (we used basil, at least!), before laying them on an olive oil brushed pizza base, and putting in the oven at 400.F for 10-15 minutes depending on how awesome the oven is, I guess! Then some pieces of a light cheese, another 5 minutes in the oven, and eat!
It was pretty awesome!
Then I made jello, watched Bones, talked to Jim, talked to my family...and have not done any work. Good first day off!