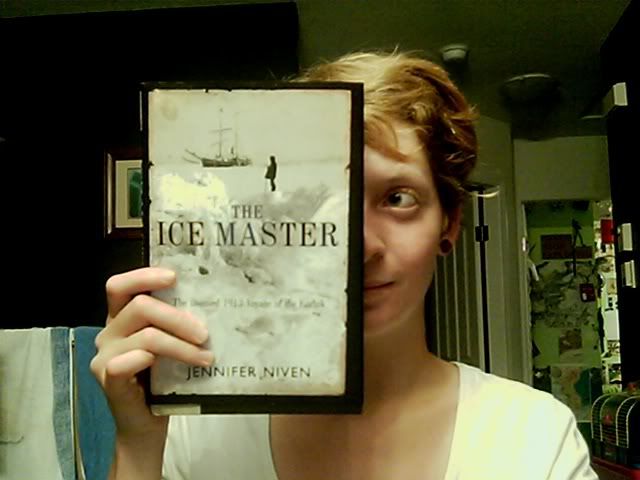 Lately I haven't been doing all that much in the evening on account of being tired from work, and generally just really lazy, but I have had two fairly eventful evenings in a row now!
Last night I was at my friend Kelsey's house and we camped in her backyard in a huge tent with no fly on it, so you could see the stars through the mass amounts of mesh it bore in place of an actual roof. (good thing we weren't camping tonight..it's been raining on and off for a while!)
Then this afternoon my brother, Kelsey, and I went on an adventure to Value Village where Brendan found a lovely oatmeal knitted sweater-vest cardigan which I will have to get a photo of him modelling at some point soon (sorry for my utter lack of neat photos lately!). We then headed 'downtown' to a cafe called Fibonacci's and dined of excellent coffees and cakes before heading into our favorite old used book shop. I came out with the book shown there, about the doomed 1913 voyage of the
H.M.C.S. Karluk
out of Victoria, British Columbia (AH!) on the largest and most expensive scientific Arctic expedition of it's time. I am so utterly excited to read it!
I was torn between it and the journals of R.F.Scott's doomed journey in the Antarctic, but I figured that those would be easier to find again.
Kelsey had to head off after than, but my brother, my mum, and I made quesadillas and watched the fantastic film Gunless. Crafted a little, and am now going to head for bed!
Ps. Mosquitoes are the most vile creature, and they all deserve to be locked in a pit of ice forever. Jerks.
night!