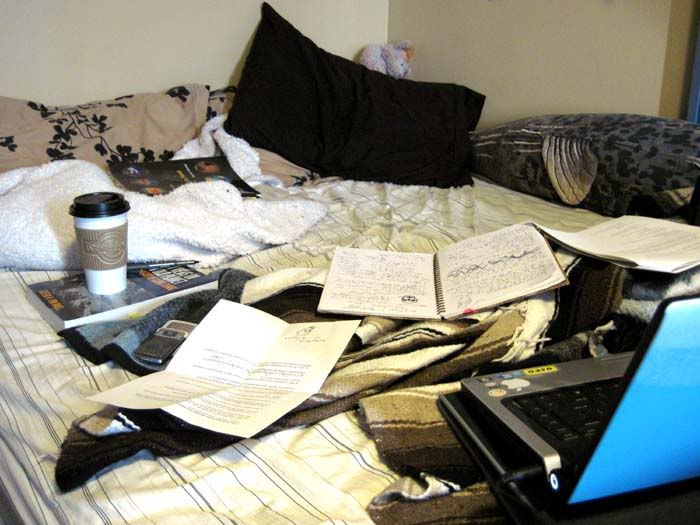 Is it scary that almost everything I wear matches my bed?
..or that everything I own matches the wall?
You don't often see it, but one of the walls in this room is blue. But it's that kind of grey/blue..the sort of colour I feel like I need more of in my clothing to break up the brown, for the sake of the rest of the world. (I love the browns..shh)
I have a midterm at seven, and I'm sort of studying for that now. Also typing this all, so I don't go crazy.
I have been reading Into the Wild for the past few days, when I'm not killing myself studying (which is most of the time). The story is amazing, and the way he renounced all his worldy possestions reminds me of the peoples of Anarres in the Dispossessed, who have no possetions. (not even in their language! no 'my' 'our' ect.) It's kind of an intregueing way to live... It seems like most/all of my books are about people traveling and living far from where they originated.
It makes me restless for adventure! I've been back at school for just over a week and I'm already itching to leave again. There must be nomadic blood in me, and it's definitely not buried very deeply. I've travelled a far amount and moved around a lot, you see, and staying in one place for any long amount of time is just a strange idea. (good thing it's not going to happen for aaaaages!)
Can I drop everything an go live in the woods? Not in Alberta...it's cold.
Not anytime soon either, unfortunatly.
Luckly, the zoo is on the weekend, and maybe a hike the following weekend.
Adventure is out there!
-Robyn
ps:
(www.steam-packet.com)
I'm going on that boat this summer. BAM.
Best idea ever!