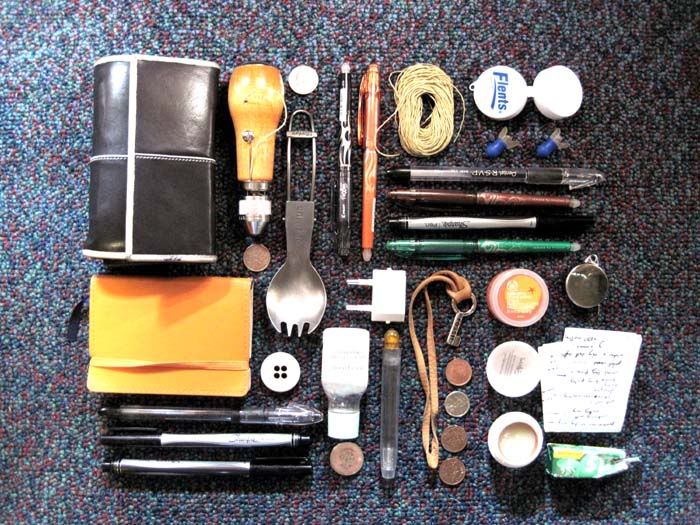 Things arranged neatly; The contents of my purse (minus a few pens...if you can believe that)
I have a story for you all this morning;
-ahem-
There was a knock on the door, and I sat up in a panic. Was it breakfast time already? How had my alarm not gone off?! Hurriedly I turned on the light and glanced at the clock.
9:20am
What?! I was so late for Geology!
Thinking it was Laura knock knock knocking at my door I scrambled out of bed any flung open the door, ready to apologize for missing breakfast. But it was not Laura who stood on the other side of the door, rather, an unknown young man.
"Hey." He said and walked into my hall.
"Hello.." I was puzzled...past puzzled, and still half asleep, "Um..What are you doing?"
"Oh, I'm looking for Carey." He said nonchalantly, peering at me.
"There...is no one named Carey here..."
By this point I was looking past him at the crack between my blinds, and pondering over why it was still so dark at 9:whatever, am. Nothing was adding up in my head, other than the fact that I did not know who this fellow was, but he should probably leave.
He was looking at his phone.
"I..maybe have conjured up 531 in my head," He muttered, flicking through messages, "Is this your fire hat?"
Holding up a little paper fireman's hat he gave it a shake in my direction.
"Nope, I have mine."
"Oh...Well, I'm sorry to bother you, Enjoy the rest of your night!"
And with that he strode off down the hall. I closed the door and stood there in utter embanglement; ...night?
Night...
I went back and looked at the clock again, slightly more awake now that the previous few minutes.
2:24am
Ahhhh
That made a bit more sense! At least it fit in with the fact that it was still dark out. After making sure my alarm was, in fact, turned on and set for 8am, I crawled back under my pile of blankets and hoped dearly that no one else would have the brilliant idea to knock on my door in the wee morning hours.
The end!