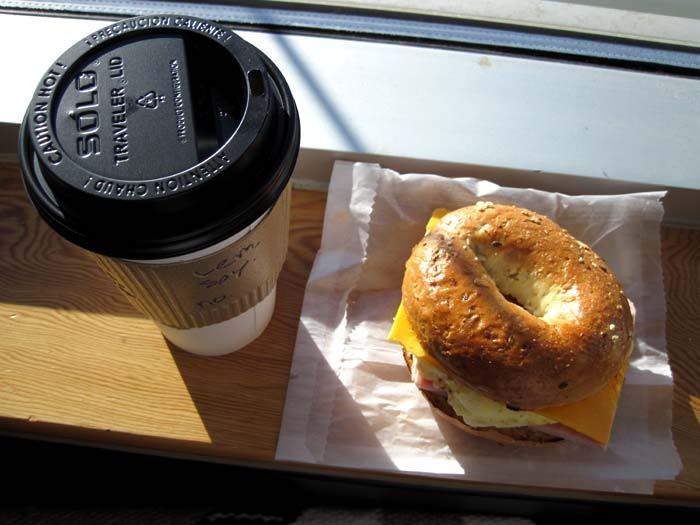 (GAP spring skirt, thrifted suspenders, Suzy Shier top)
As I sat down to write this I heard a train blast it's whistle in the distance, and I had to stop and think 'Since when are there trains here?!'
But I suppose there is a railway track running right beside MEC downtown, and I did walk under it twice...no...three times yesterday..hmm. I guess I hadn't actually seen a train on it yet?
So I got up this morning, and decided that I'd have 45 minutes until I'd start my homework, at 10. And then I realized the time-change dealy happened last night, and it was only quarter after 8! Needless to say I was fine with that idea, and kept 10 as my start-work-time. (haven't started work yet...eek!)
We took one of my friends out last night, for her 18th birthday, and one of my other friends was wearing rainbow suspenders which we were all envious of. When I was getting dressed, I realized that I actually do have some susupenders, which is why I'm wearing them now! Happy Day! Unfortunatly I've got to be a hermit today and study/write reports so no one will get to see my awesome outfit..ah well. I think we're all watching a movie tonight, but by that point I'll probably be back in hemp pants and a loose tank top per usual.
(when I went outside to get breakfast wearing this outfit, and a wool coat...my legs froze. Forgot that my room is about 15.C warmer than the outside world at all times. daaaang)
Apparently my next birthday is going to be celebrated on St.Patrick's Day...hmm.
Lastly, Ethics question: Would it be unethical to go to a bookstore and read a history book, taking notes all the while for references later, and then not purchase it?