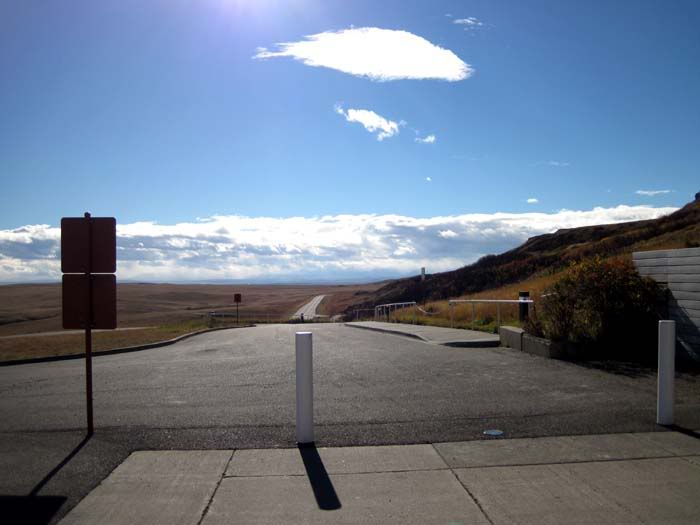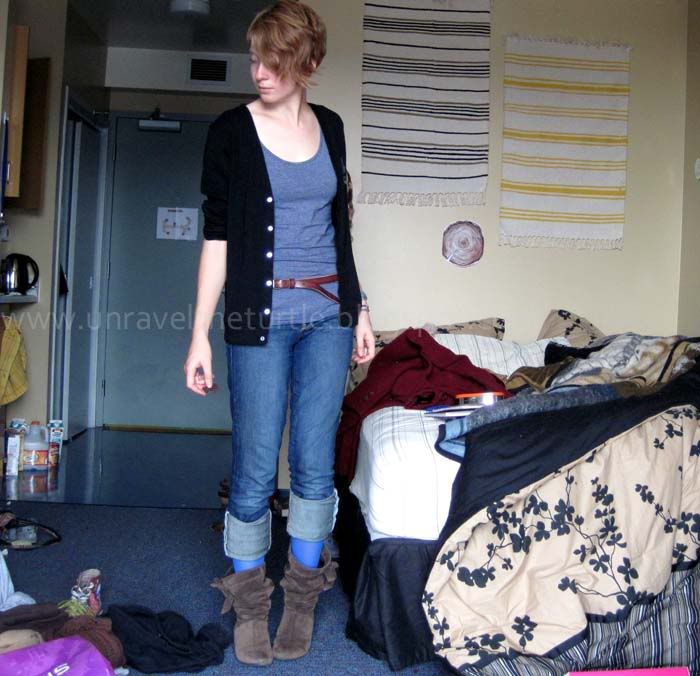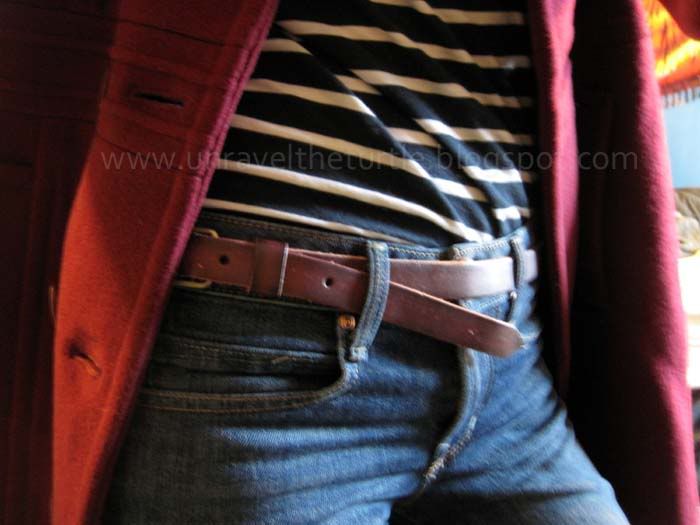 ( Smartset wool pea-coat, Tommy Hilfiger leather belt, H&M tanktop, GAP striped tee, GAP jeans, Tristan tights, UofC men's cardigan, Italian suede boots)
The other day my Archaeology 201 class visited Head-smashed-in Buffalo Jump. I'd been there a bunch of years ago, and it's still pretty sweet! As you are approaching the site you can't see the museum at all, save for small segments of roof jutting out from the hillside. We had to ride in horrid yellow school buses on the way up and down though, which was horribly unfortunate for anyone (myself) with long legs! Blech. (the first and forth photos are of the site. The forth photo is of the actual jump itself. Back when it was used, it was about 10 metres higher! The slope at the bottom is a bone pile.)
It was a two hour drive back from the site, and a 10 minute walk across campus back home. I'd been back in my room for about..no longer than 40 seconds, and my phone rings. So off I went again with my friend from rowing, to pick up baking supplies! We made the fantastic cupcakes in the second-from-the-bottom photo there. Aren't they fantastic?! They worked so well, and we were pretty much experimenting the entire time.
(mom, please email me the coffee-chocolate icing recipe? The one we used didn't..really..work well at all)
We also played folk music, and Mother Mother songs with his roommate and had a lovely time. I was so pleased to not be eating DC food, you have no idea :D
Sloppy-Joes from scratch are great, but you have to toast the bun in order to keep it stable enough to actually keep the meat inside. yummy!
And we also watch 300, because apparently I needed to see it. I fell asleep 20 minutes from the end...so..that says a lot for the movie, hm?
That was a looooooooong and fantastically eventful day!
I also figured out yesterday that if I wear tights inside of my jeans, and then boots..and then a wool coat, I'm not as cold as I was before! I say this because it snowed
ALL
day yesterday, and I was not pleased with it at all. Luckily it didn't stick for longer than the morning, but the stuff just kept falling!
There was a fire-drill this morning at 6am, which pleased no one. Luckily I was up for rowing already, which I wasn't able to go to after all because my driver wasn't sure if he's be allowed out on the water. I'll try again in the evening, after I get my phone fixed. Because it died, and now I have to get a plan. dang.
Today I have to:
-fix the phone so I can get to rowing, ect.
-study Linguistics!! :O
-get through reviewing chapters 3-5 of Geology.
-print the Archaeology lab report outline...finally...
-write down my exam dates/times/locations.
-go rowing gosh darn it!
My class doesn't start for an hour...egghh.