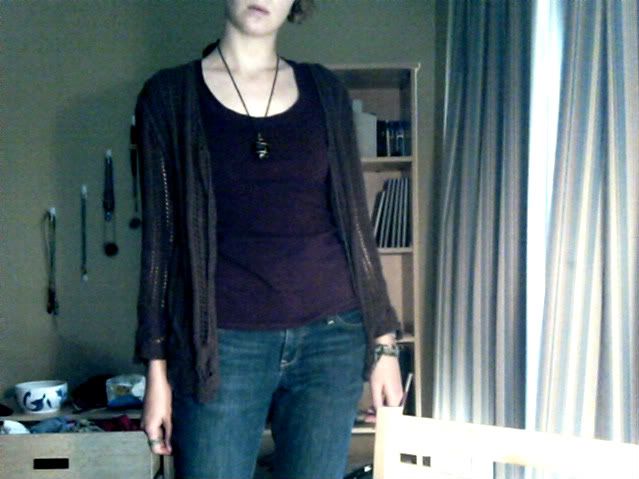 (Bootlegger top, handmade thrifted sweater, old navy jeans, handmade necklace)
Yesterday I bought the 'Indie Rock Coloring Book' along with my Geo lab manual. Of course the first of those too was much more exciting, and I have since coloured a page of it while talking on skype.
I spent my morning eating a large breakfast. We figured out that the dining center is expensive in some aspects, but not so much in the potatoes and cantalope departments so that is what I had for breakfast. We also realized that if you have breakfast/lunch and then a lunch/dinner with snacks before the first and after the later...it's cheaper than 3 meals a day. We're just cunning like that, I suppose?
Trip to Value Village today as well! Bought some wicked 'tight and bright' for the Res. Rodeo tomorrow, as well as a little bit of something cool for my dear brother for Christmas. Sorry man, you can't see just yet! Unfortunatly I can't go to all of the 'rodeo' as me and Laura have been convinced by various members of the Rowing Club that said club would be a brilliant thing to do. My idea is that it's the only water-related thing to do around here, and Laura's is that it would be fun and a lot of pretty men are in the club. So we shall see tomorrow!
Another movie night, and I got to meet one of the more ellusive members of our 5W family. Fun times! We keep having movie nights in my room, which is fine with me, since other people bring me snacks and not the other way around. And then leave them. So I have snacks!
Night!