Hello there chums! I've not been posting much this week, I fear.
And unfortunatly I haven't been wearing the most interesting things, discounting today.
Today was the day that my english Liturature class went down to the lake to film our version of 'Rime of the Ancient Mariner' on an old tugboat. It went swimmingly, I have to say and I took over 200 photos.
...But my teacher currently has my memory card, to download the pictures to the Lit 12 website. I do wonder though, has she posted them yet?
Yup!! Fantastic! (9th Doctor anyone? anyone?)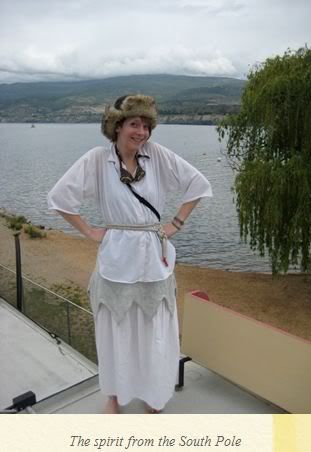 Aww don't I make a wonderful South Pole Spirit? haha
I was also the photographer for the entire movie, so all picture of it, except for this one...were taken by me.
Alright! sorry I don't have more for you all~ but I certainly will on the weekend :D I'm going to get one of those really nice stretched yoga headbands...
(And Brandon? would you like another cowl?)