(skirt and floral top, GAP)
I wore this pile of floral / and flowing things yesterday to visit the lovely farmer's market as I do so often. The shirt is the coolest thing ever, I've decided! I got it at the GAP the other day, when I got the other things there. From across the store you can't tell the pattern, but if you walked close up to examine the interesting designs...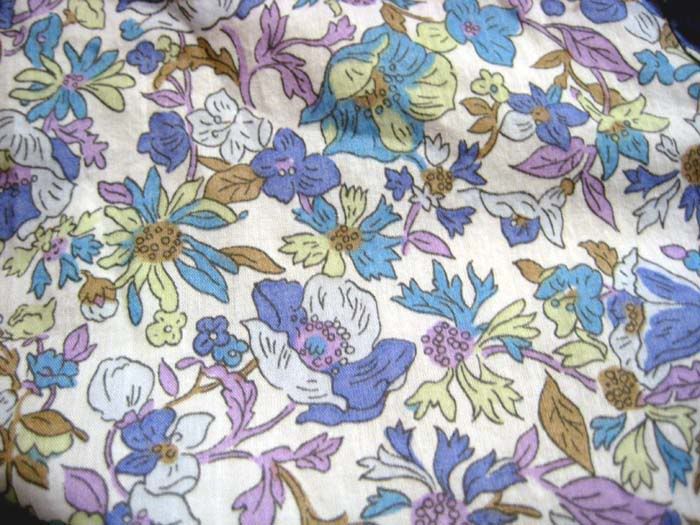 Isn't that lovely? So light and delicate, and flowing in the wind. It actually kept me quite cool as I walked around outside in the blazing sun (which is something I dislike doing often, I burn a lot..)
Then I went into a lovely vintage store called 'Vintage and Vogue' which my town is luuuuuuucky enough to have! It's chocked full of fantastic, if slightly over-priced but well-preserved, vintage clothing and accessories. I was searching for lace gloves and discovered that everyone from the 50's had bloody tiny little short fingers!
Just lovely~ Good thing crochetting stretches quite a bit, eh? They shall go with my prom dress on Wed, so I can eligantly wave at people. I'll be sure to take some photos, not to worry.
The rain-sailing title referes to...well...sailing in the rain today! We had a heck of a lot more wind that we were actually ready for (having only sailed our boat twice now). I got to use the extention tiller while hiking out a bit on a hard port-tack, which was really something! We were caught in irons for a little bit...but we were also stuck in the middle of a larger boat-race, and had to sit there for a few minutes anyways, amdist the white-caps. such fun!
I'm glad we didn't flip.
Grad Photo! My school has horse statues out front, and we decided to ride them in our gowns for a photo of 2...or 10.
Tada! hope you all enjoyed that!
I have work tomorrow, then monopoly, I think. :D