If you'll believe me, I sang that title in my head as I typed it. Not out loud though, as I'm too lazy at the moment to actually engage my vocal cords. When someone calls 'CAKE' however, I shall loudly declare how much I want some!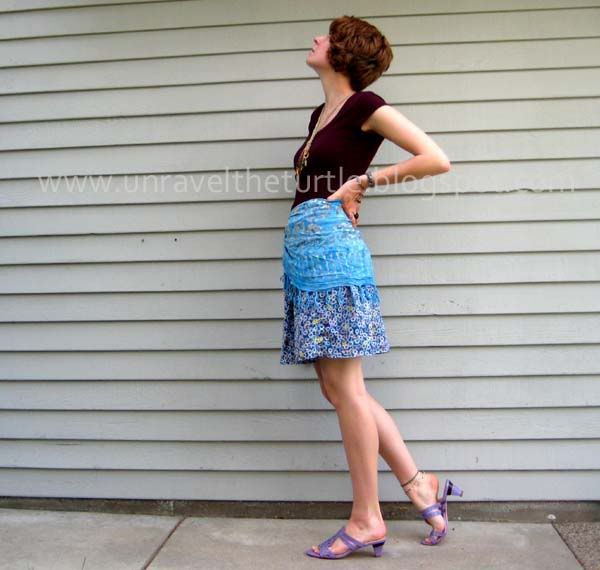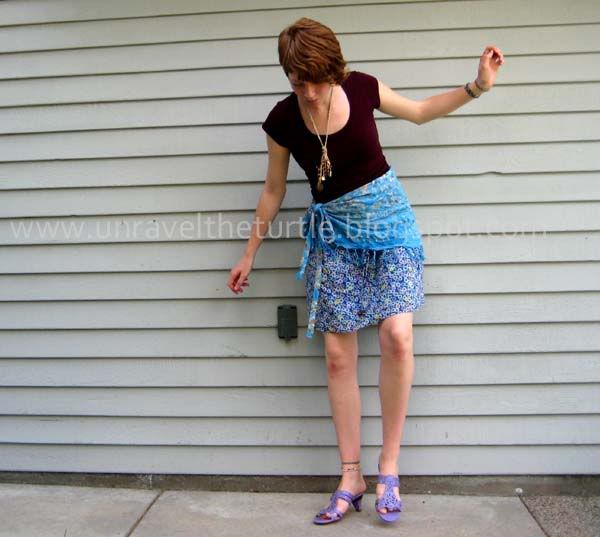 (Blue sarong, suzy shier top, handmade necklace, old navy floral strapless sundress, portia purple sandles)
I thought folding the sundress in on itself to make it only a skirt for the day was a great idea. Unfortunatly it made it a biiiiiit lumpy at the top, which is the real reason the sarong is there! That and...I liked it?
Just like I liked the necklace I'm wearing in the photos. I saw a girl with one like that while I was working yesterday and thought 'I can make that!'
Stealing the 'P.S. I Made This' movement slogan for a moment as I say 'I see it, I want it, I make it!'. (because I do that exact sequence a lot.
a lot.
It's hemp, braided, and leather cording tied to various objects, and tied into a large lump at the center. It has a charm in the shape of a lock, an actual lock, a small metal sand-dollar, a leather tassel, and a spotted feather. At the top of all the leather cords I tied a small knot, so when I was wrapping them in there with string they couldn't catch on somethign and pull out. A bit of an snchor, if you will!
It's nice and unorganized, and makes me feel like a bit of a witch-doctor or something.
If any of you make one, I'd love to see your results.
Thanks!