Unfortunatlly, unless you are part of the trumpet section in my jazz band...you won't get that joke.
But I'll explain it! It pretty well involved a plastic tiger that my second trumpet player Ian stuck into one of the alto player's pockets. She didn't notice until the very end of the day, a bit after Ian and I kept asking her 'have you found a tiger?!'
It was pretty great.
But now what you came here for...an outfit!
(though if people read this for my strange musings and stories too, hurrah!)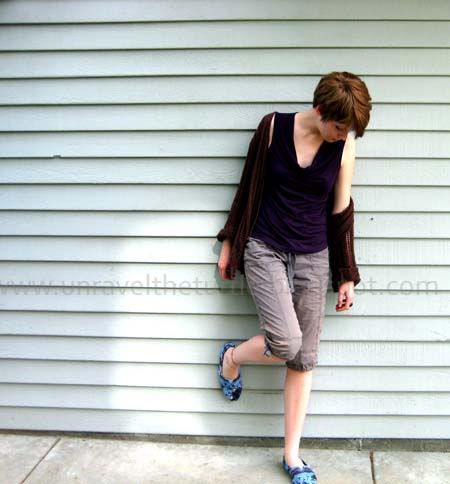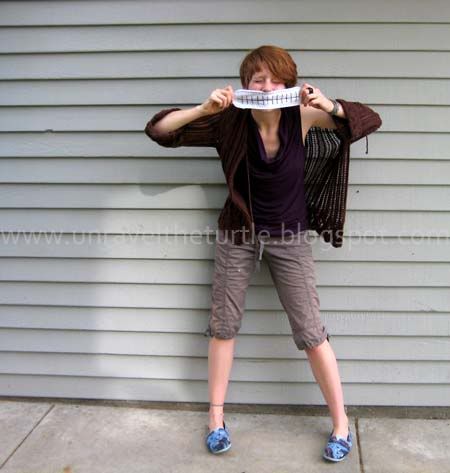 (Effort's naturally top, thrifted sweater, Bluenotes capris, TOMS Vegan slip-ons)
In the second picture there I'm holding a white thing with black things on it. It's a mouth! It's the lovely little felt mouth that will be going onto a stuffie for an amazing project that I can't quite tell you all about yet (but I want to!). You'll just have to wait until I have things rolling smoothly..and actually have more than an embroidered mouth to take a photo of!
The point of this outfit was to run around in my TOMS. I'll be raving about those things for months after this, I'm sure, but I thought I'd get most of it out in blogger-land right now so you won't have to deal with it (too much) for a while at least.
Ahhh so great though! So comfy, and soft, and quiet...and this is a shoe you are
supposed
to wear barefoot! Genius!
My only other news today is that...tomorrow I have my N-level test, for my driver's licence. ewww but I'll be sure to tell you if I manage to pass on my first try or not.
Lastly, I leave you with mint-water.
...mint...water...
chocolate mint water? (I have some sitting in my room. hmmm...it's not open.)
oh dear.