I'll eat you all within a week, I swear!
Alrighty, this is Chocolate day everyone! My brother has already eaten about 20 of those little Lindt chocolate eggs...before lunch, that is. :o I've eaten a few of those, a kinder egg, and a mountain of jelly beans by now! I don't think I'll be eating much dinner. Any my solid dark easter bunny has 25% of your daily iron in 30g of chocolate. Dark Chocolate is good for you? I rest my case.
Outfit? I had my brother's help with some photographs today.
Photos by Brendan
Well then! I've never posted pictures of myself unicycling anywhere before. What sort of worries me is it looks like I'm missing an arm in the second photo there. hm. I fell over though, trying not to crash into my brother, and was also trying to catch the seat as I hopped down.
(thrifted dress, ancient Old Navy jeans, DIY ..scarf?, VANS slip-ons)
It is really, really uncomfortable and diffictult to lay unsidedown on stairs for more than 3 seconds, while waiting for the camera timer to go off! go ahead and try it?
My family and I went for a lovely walk along the waterfront..of a lake, after a snack-lunch today, which ended with me trying to leap across a small water-way and landing in the water. hehe. My brother had already done the same thing too, I just thought I'd give it a shot too?
That's about all I've done today actually. My friend wanted me to go to a concert tonight, but I am going for dinner at a family friend's house. I did really want to go though, but I didn't know it was tonight until yesterday! shuck!
And I'm really pleaed with everyone's responses to the TOMS One Day without Shoes post. Thanks guys! Do tell your friends/co-workers/loved ones to get involved too!
Now..Some pictures to liven things up a touch!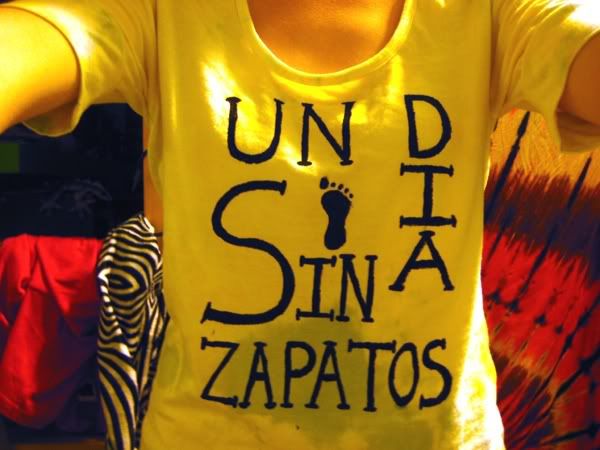 first picture: Chocolate! <3
second: all the soap I have in my bathroom. -cough-
third: My 'One Day without Shoes' shirt I made for myself the other day. It does actually say it in English on the back.
Oh!! I woke up to find that the lovely Jen of
'unedited'
gave me a lovely award! Aww!
Thanks so much Jen!
Have a great Easter everyone!