:Sunglasses!
Here's to sunglasses. An item made of plastic about 90% of the time, something that probably costs about 4 or 8 dollars to have manufactured, but costs us 20$ and up (waaaaay up) to purchase.
Somebody knew what they there doing when they started this!
These days people lavish hundreds (or more) dollars on a simple pair of sunglasses..but why? I suppose it's because they are stylish, cutting edge, or functional. I personally buy sunglasses in interesting colours, and styles that aren't curved around my face as my eyelashes are too long and I have trouble blinking otherwise!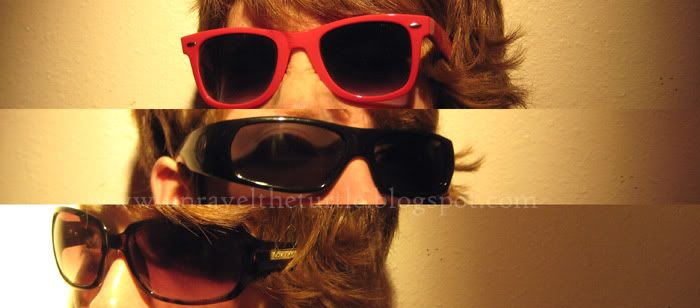 (top to bottom: Wayfarer knockoffs, Dragon Kingpin, Calvin Klein)
At this point I could say "Look world, I fell victim to the world of name-brand sunglasses!" and hold up my lovely Calvin Klein sunglasses I got on the weekend...but ...I didn't buy them. They were given to me, by a friend who found them on the bottom of the river that runs near my town. They had some Dragon Kingpins too. I got those too. Dior and D&G too. It's a fun river!
Not that I wear sunglasses that much...but I actually would do a lot for these: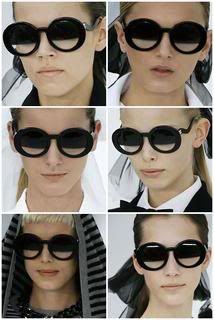 from Flashy Shades.blogspot.com
I'm sure you've all seen these by now. I dearly want them! They just looks so crazy. Maybe I can find some knockoffs. If anyone knows of a place to buy them for some strange-low place, it would be well good!
That's all for this evening, thank you all!
..ps: Does anyone have a cool outfit idea for me, based on the clothing I've shoven in this blog? thanks!