Today I drove an hour with my family to see 'Alice in Wonderland' in 3D. Despite all the negative reviews I'd been getting about the film, I thought it was actually very very well done, and creative! The actress who played Alice did a great job with the role, and Johnny Depp was as brilliant as ever with his tri-personalities Mad-Hatter. In the end I decided that the Cheshire Cat is still my favorite character, and the March Hare needs to come be my best friend.
According to internet sources..like say...wikipedia, apparently Cheshire is a place, and the phrase 'grinning like a Cheshire cat' comes from the area, but the exact origins of the phrase are unknown. There was a cheese made in the area in the shape of a cat, however, and it was cut from tail to head so that the last thing you saw of it was a grinning face. How interesting!
Anyways, I have outfits to show you all from the last two days.
Firstly, here is yesterday's outfit: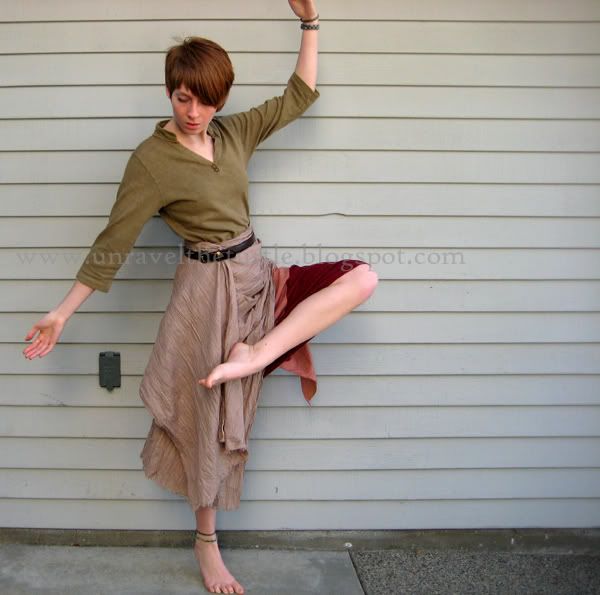 (Earth Creations hemp top, scarf from Paris, skirt from Nepal, vintage belt,)
I spent yesterday reading, sitting around outside in the sun with my mandolin, removing the broken zipper from a hemp-fibre shoulder bag, and archiving blue prints from the 50's at the museum where I volunteer!
note about hemp: It's not a drug. It is related to a drug, but they are very different plants. Hemp fibre rope used to be huge in the states, until a smear-campaign ran by the DuPont and other large companies (in order to market their synthetic rope) destroyed it's reputation. grrr... Today if I mention hemp to someone they give me a strange look, to which I sigh and begin explaining how things work.
Today! I wore this: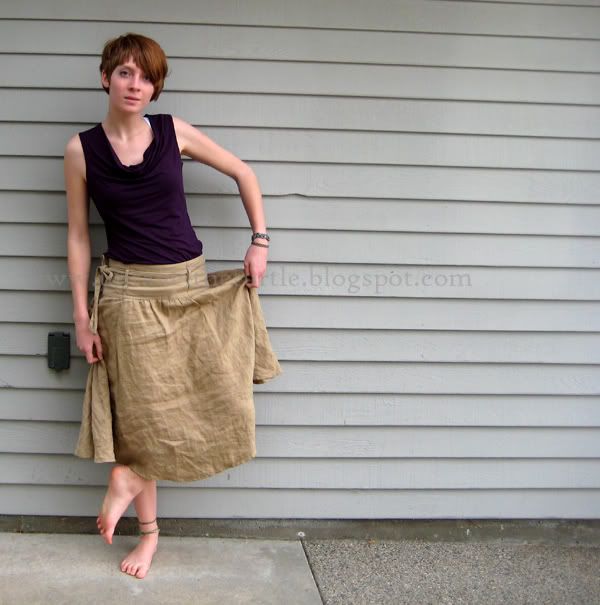 (Effort's naturally bamboo top, United colors of Benetton skirt)
Bamboo is a less controversial fabric, and very soft, but I don't think it would be very forgiving to someone who had something about their bodies which they didn't like too much. The fabric tends to cling to your skin more than other fabrics do.
It's so nice and drape-able though! The deep purple of this top is brilliant~
I'll leave you with this blurry photo of a castle in Italy that I would like to explore, purchase somehow...and live in.
That's all for today, but I'd like to once again thank my readers! I hope I don't suddenly become boring to you all, for it is so nice to read all your feedback!