But before we get to those, I've got to say :
HAPPY BIRTHDAY BRANDON!!
Man, hopefully you see this! I'd like to wish you the very best of birthdays, as I'm sure it already has been so far..since I'm writing this in the evening!
Alright! I'd like to warn you all that this is going to be quite the fantastic photo dump tonight! I think I have about 11 images to share with you all before I have to get back to studying Spanish.
First up we have my super-bloody-amazing haircut! I really love it~ It was inspired by the
Sound and Fashion
's owner Varpu. I think I was being rather difficult when I had it done, but it needed to be just so, and it is..and I love it!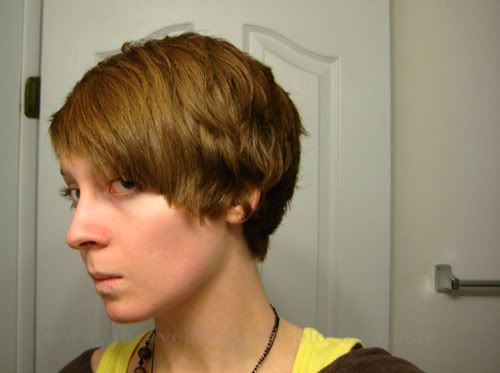 You'll see the other side in the outfit photos! (sorry for the strange face I'm making)
Then, as I was reading
The Sartorialist
yesterday, I came across a post showing how to tie a scarf in the most amazing way possible! I'm never just going to wrap it around my neck..ever again.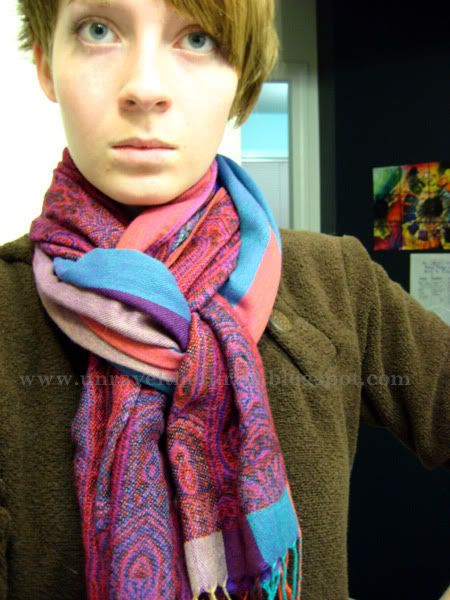 So great! I advise you all to hunt down the post and try it! They have an instructional video~
Will the excitement never end? NO! Because I have an outfit to show you all now!!
Well...actually I'm lieing, for it is really my band outfit...but I did wear it all day long, so I guess it almost counts? I looks sharp though!..ha..ha..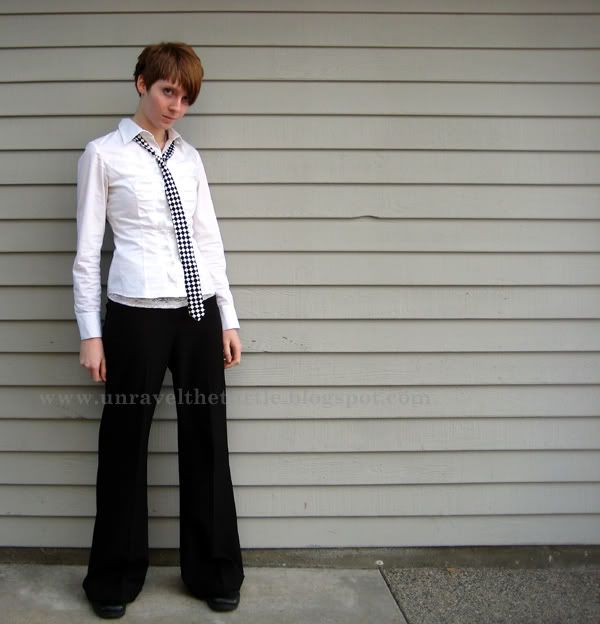 (Ricki's blouse, tie from Japan, Suzy Shier dress pants, The European Walking shoe...)
oh ho there was both sides of my hair! I think it is so cool that it has different sides...such a concept.
Now then, lets calm ourselves down. While I was in the states the other day, in a grocery store, something caught my eye. It was the American Vogue magazine.
"Why," I muttered out loud, "I've never seen one before! I wonder how much it costs.." I was hesitant to check, as it was so big and thick. I was sure the price was going to tip over 10$ and be out of my tiny budget for the trip. I prepared myself for the news.
"5$ US." My brother replied after looking, "You'd better get one!"
And that is how I got my very first Vogue magazine, and spent hours on the way to Moscow gasping over the wonderful editorial spreads. These are my favorite pages from my favorite editorial of them all: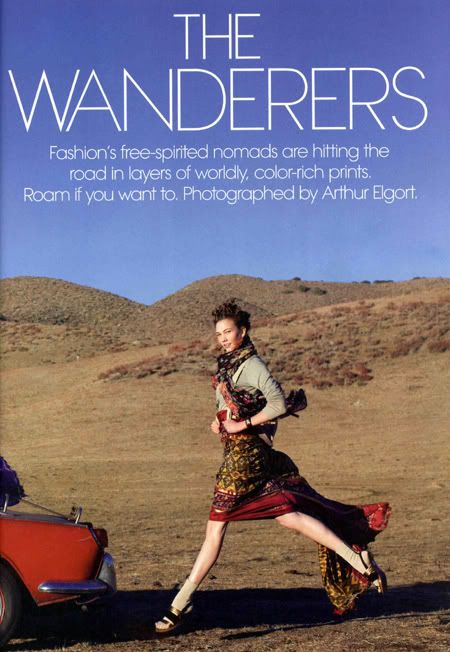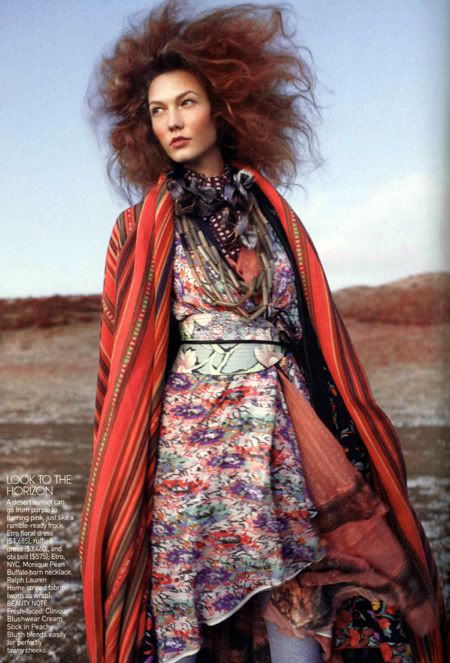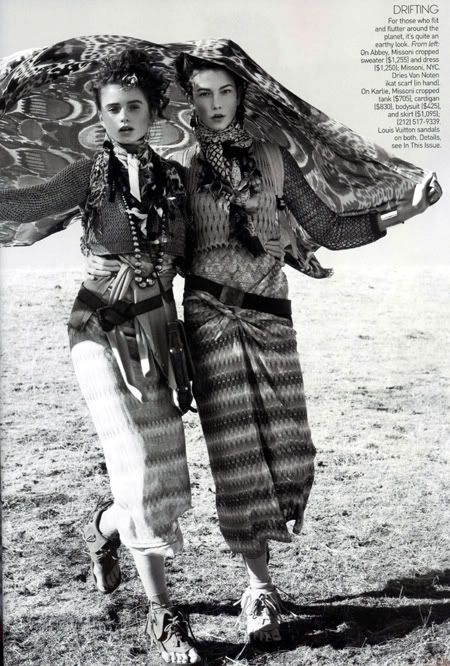 I think the second photo is particularly stunning. Her hair especially, but I really love the mountains of layers! They reminded me of the people of Nepal or Mongolia, and even a little bit of myself sometimes. I have resolved to bring more prints into my life now because of it too.
It was that spread that then inspired today's outfit!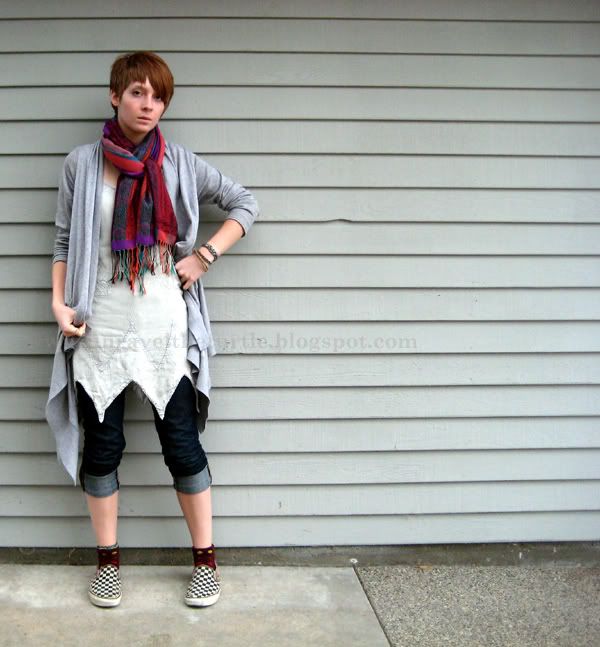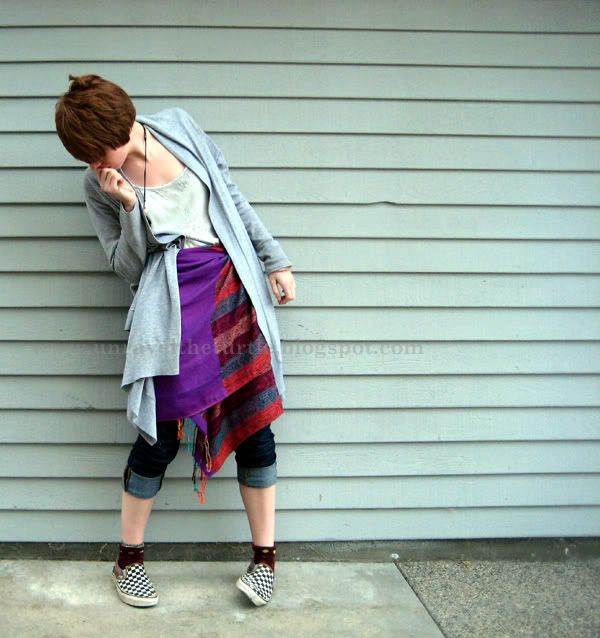 (thrifted scarf, old navy skinny jeans, Bootlegger sweater, thrifted top, assorted necklaces, VANS slip-on shoes)
It was fun to flounce around it, and a girl in the block where I usually paint told me I looked as if I had just stepped out of a fantasy film! How neat is that?
Well! I hope after wading though the loooong post, you enjoyed yourself in the end!
I regret to say that this will be by last post for about two weeks, unless I manage to find a computer somewhere on my travels, but I wouldn't count on that.
So stay safe everyone! And don't forget about me! I'll be back!
Have a great Spring Break!
love, Robyn