'Tis Robyn! Back from her glorious adventures across the world and back again.
I hope you all didn't forget about me! haha
I'm sure I look a little bit tired in these photos, as we just got into town this morning at...6:15am or so, and I haven't got to sleep. I slept on the plane, and in the bus, but that's probably about 7 hours of sleep in the last two days. I'm a bit bushed! But that's alright.
Take this jetlag. blogging will keep me awake!
So in that photo I'm wearing a hat that I bought in Germany, a scarf and beret from Paris (and book), and a jacket from Verona, Italy. I certainly feel like a world traveller today!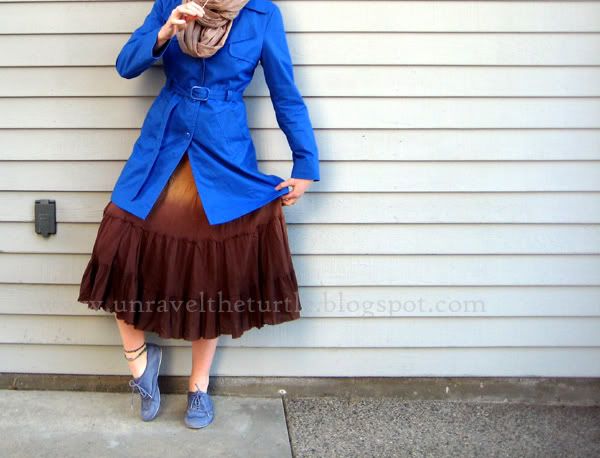 ( United Colors of Benetton jacket, BlueNotes skirt, German hat, Swiss rock candy, Italian shoes from Paris.., Wool beret)
Excuse my lack of a head..I was making a very strange face that the internet would be better off with out, to be sure.
Aren't those shoes darling though?! I love them. I'm so glad my feet have stopped growing, so I don't have to be worried about growing out of them. I picked them up at a shop in Paris about 4 days ago, and started to break them in over that last two days of travelling. (which feels like one to me)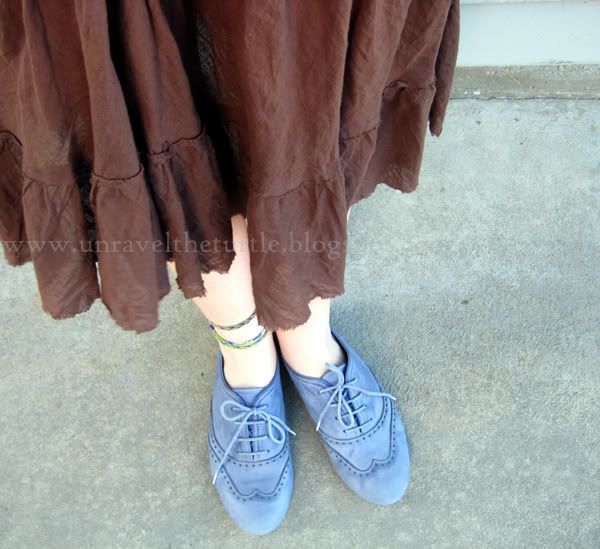 And the blue coat was my 18th birthday present to myself while we were in Verona for the day. The weather was glorious and I had pizza and Fanta Limone in the park for lunch. It was a pretty fabulous 18th birthday, if I do say so myself! (and that evening we arrived in Switzerland. Now that I'm home, my family and I are celebrating my birthday tonight~ It should be nice, and gives me a reason to eat even more cake that I have been.
I was in Paris for a few days as well, and while secretly hoping I'd see the powers behind 'The Satorialist', I didn't actually pack anything that would get me photographed. Ah well!
My doll is making an appearance on the blog now, underneath the famous inverted pyramid at the Louvre, followed by an interesting church who's name I have forgotten!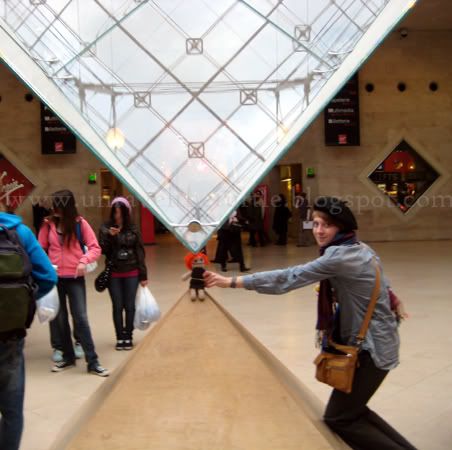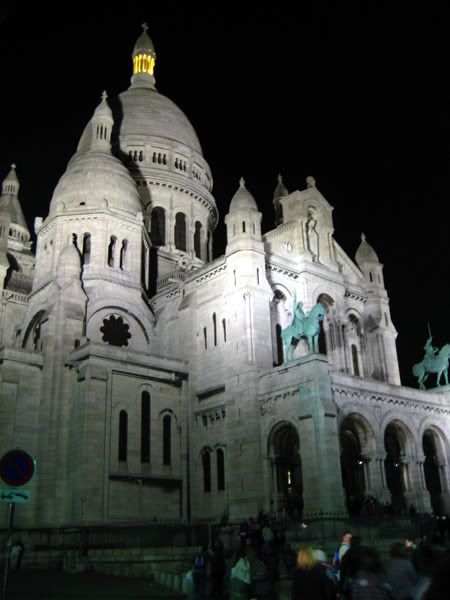 Ahhh my ramblings are getting a bit more scattered than usually. Maybe I need a nap?
But before I leave you, I must tell you of the amazing scholarship that I recieved just moments before leaving for Europe!
I got a call from the University that I'll be attending in september telling me that I was being awarded a 'Chancelor's Award'. While I was trying to remember if that was a large ammount of money or not, the woman on the other end proceded to tell me it was worth ... -drumroll-... forty thousand dollards. :o
-gasp-
I made a gurgling noise on the phone when she told me the sum. As soon as I thanked her a million times and hung up the phone, I burst into tears of joy. It's so crazy! It was the perfect going-away present too~ haha
So when I got home today there was a package of various university things they had sent to me including a shoulder bag and t-shirt. (that shirt fits me perfectly and I want to know how exactly they knew what size to send...hmm...ninjas?)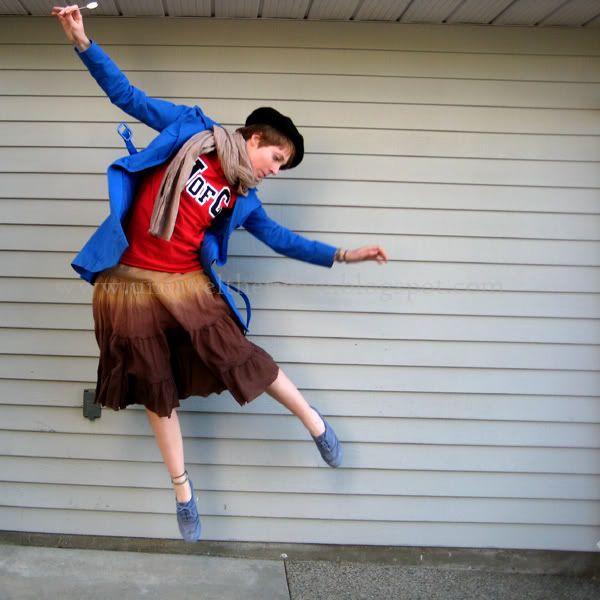 Jump for Joy?! I think so!
I need some food~
Ciao, darlings!