I was reading on the lovely blog 'Park & Cube' (link in my favorite blogs list, if you are interested) about the recent Rodarte show, showcasing floral patterns. Winter Floral!
Now, I'm not really that into wearing floral patterns at any time of the year usually, but the thought of wearing mass amounts of flowers in the winter suddenly appealed to me and I went on a search through my not-quite-a-dresser. I then re-discovered my one and only sundress, and even though it is about 4.C today, I wore the darn thing! I have to say, it's pretty fun~ I felt very elegant running around downtown in a few musics stores, playing little Irish Jigs on all the mandolins.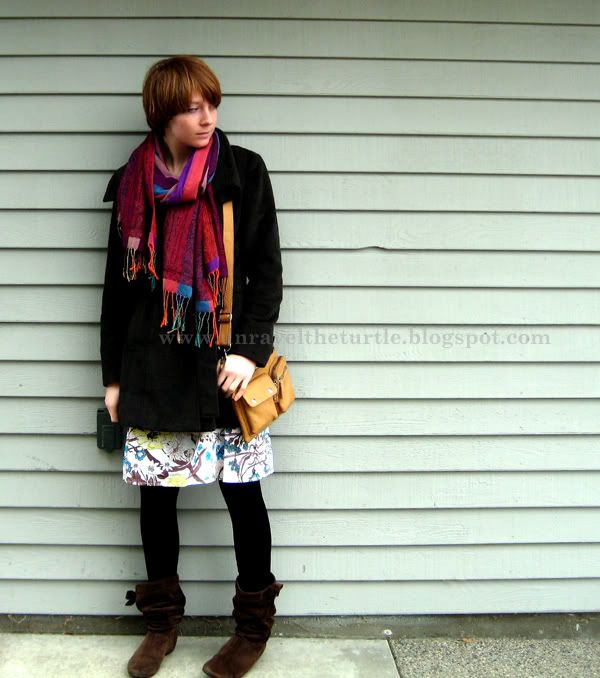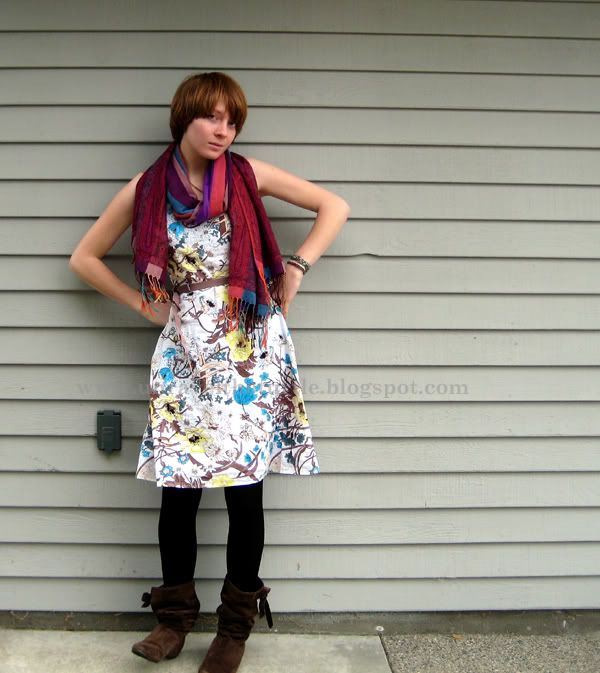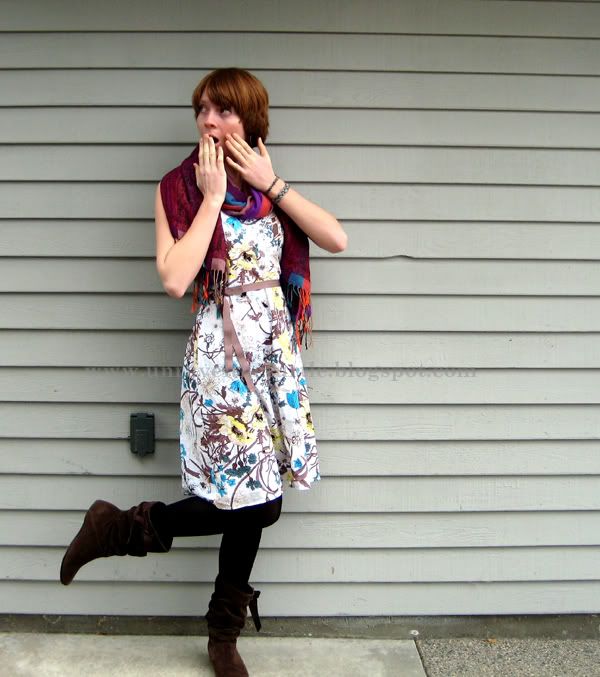 (dress from Ricki's, tights, Italian boots, thrifted scarf, Fossil brand bag, Suzy Shier coat)
(excuse my strange expression in the center photo. I..don't know what I was doing...but I wasn't angry, I swear!)
I think that the scarf if fast becoming one of my favorite accessories. I know, I know, I'm very slow when it comes to trends but it really did take me until just last weekend to actually find a decorative (and warm!) scarf that I really really enjoyed the feel and look of, and one that could serve dual purposes...such as a shawl. That scarf if journeying to Europe with me in less than two weeks! (I do hope everyone stays tuned for that exciting trip! I'll try to post randomly on my friend's ipod, or if we come across a hotel with a computer I'll try very hard to make an update or two. Unfortuntaly you'll all have to wait until I get back for photos from that trip. D: It's not for a little while though!
In other news, I got a cord for my vintage elephant necklace I aquired last weekend. It doesn't look as elegant, but I need to have a cord or a gold chain to keep it from affecting my silly skin. It looks good though!
Also, My English Liturature class just held out medieval banquet yesterday and I have a photo for you!
Squire and Pardoner from 'Canterbury Tales'
PS: I shant be around this coming Friday, Saturday..and most of sunday. I'll probably post next sunday though! Jazz Festival~ yeh.
Have a great Saturday! I'm going skiing tomorrow~