This post is about sweaters. I love sweaters!
I don't know if you can really tell by my photos on here, but I own a lot of sweaters.
A. Lot. of. Sweaters.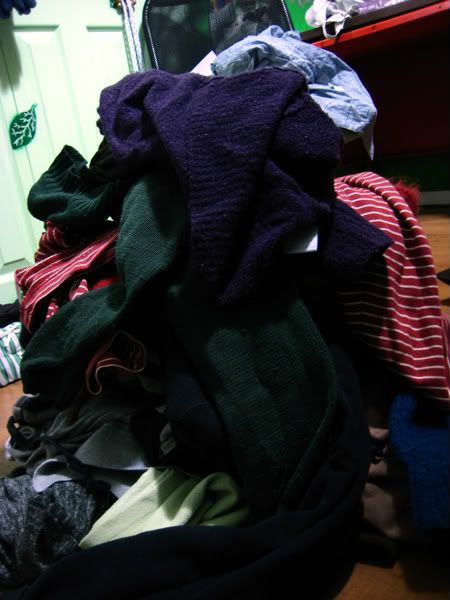 20 actually! I just ran upstairs and counted them all for you~ Maybe more than 20? They get placed in odd spots around my house sometimes and I forget about them. I'll just say 'Upwards of 20' to be sure I'm not missing out on any.
True be told, they are my t-shirts for half of the year! In the winter, if you're inside a building it is usually still a bit chilly and therefore requires the application of a sweater to your persons. You could probably get away with wearing the same shirt for a week straight if you so desired, as long as you changed your sweater every day. Or...every...second day.
Maybe?
And I can always justify obtaining a new one too. Maybe it's actually cold out. Maybe I need one with/without a hood suddently. Maybe I'm going sailing! Or maybe I'm just greedy.
I really, really need to work on that. (I'm sorry Dekar, I'm trying!)
Another good reason is that I'm moving someplace colder soon. Well..someplace with more sporatic weather that justifies sweaters. When I was out there in the summer, it was 20.C, and I was very, very pleased.
Also, I'm planning of going to the UK fairly soon and who doesn't need sweaters there!?
I'll hush up now.
The point of this was that..yes..I bought another sweaters today. It was on saaaaale and such a pretty colour, and there is a drawstring around the collar. How cool is that?
(Adidas sweater, Old navy pants, Italian suede boots, various necklaces from other countries, my hat.)
haha sorry for the strange expression! The lighting was being strange, so this photos was a 5th attempt, and I was hungry. :D
So there we go! My exciting saga of clothing!
In other news, I also got a leather wallet today. I was going to get a Fossil brand wallet to match my bag, but the '20% off Wallets' sign apparently said in tiny print that no one could read that Fossil Wallets weren't on sale. Like anyone was
actually
going to see writing about a mm tall on the sign! Honestly!
But I did find a wallet eventually, and it's a darn nice looking chocolate brown to boot. (and I actually did need a wallet, my old one was falling apart.)
And finally tonight! Has anyone been in the GAP recently? They have a load od nice cargo-jungle-esque looking clothing right now that I adore! :D
Ciao!