But before we get to that interesting little detail of the day, my outfit!
I felt pretty great about this outfit today, even though I walked all the way to school in my two-inch heels (down a hill...this was a stupid idea. Me duele los pies!). But I did get a lot of comments! I walked back into my Spanish room after talking with a woman from UofC where I'll be going to school next year, and my teacher said, "Robyn! We were just discussing how nice you look today!".
I probably looked stunned for a few moments before saying 'thank you' and sitting down~ (grinning, and proceded to talk about cats to my friend in Spanish, for a good 5 minutes or so)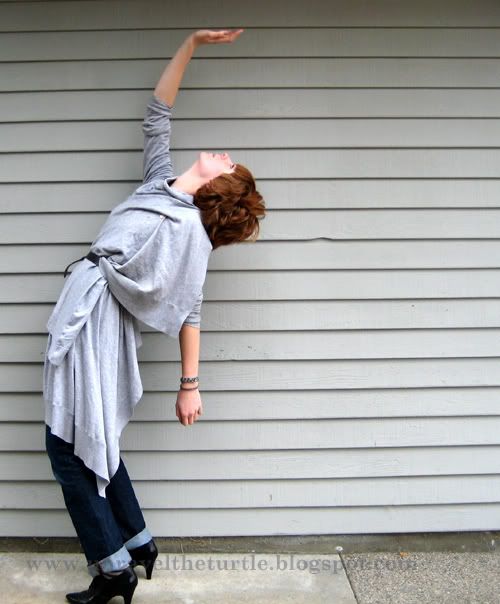 (sweater from Bootlegger, heels?, Old Navy jeans, RioRain top, pin from Nova Scotia)
I seem to be able to put together some sort of interesting outfit every other day or so...as long as those days don't involve Jazz band mornings. (then I'm far to tired to think, and don't want to have to stand around all morning in nice clothes)
If you are wondering, yesterday I wore black pants, white shoes, and my new green hoodie. :D
As for my feet, I cast them in gypsona today for an art gallery show...project I'm doing. I will be sure to take pictures of that for you all, no worries! But for now, all you get to see is my lovely feet.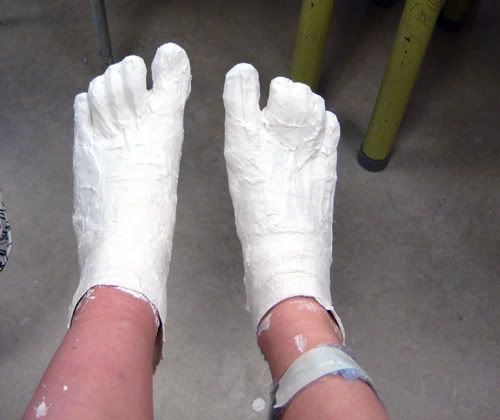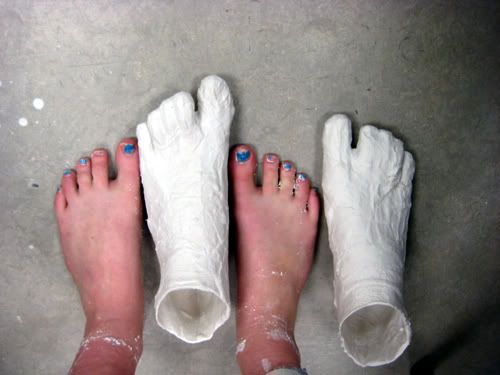 Tada! More updates on there way just as soon as possible!
I will also have a movie to post in the later part of next week, from my English Liturature class. I can't wait to film it and show you all! :D
ps: I learned how to knit a cable pattern this evening from my friend Karen at the museum! It's part of a hooded scarf I'm making, which is going to take forever, but look So. Awesome. !