Prepare for a long, photo filled, and Christmas themed post! I hope you all enjoy my weekend of adventures and terrible math homework as much as I did! (but..you can all skip the math part, if you really want~)
SATURDAY!
Up bright and early at..8:15am ish (which isn't really early at all...but...) and working on math homework as I have a large and scary Midterm (7/8th term) test on Wed, I was very happy when we finally piled into the car and drove an hour into the hills to obtain a free christmas tree. We did have a permit! -cough- A permit which we printed off the internet and then signed and jammed into the glove box and forgot about it, just like every other year!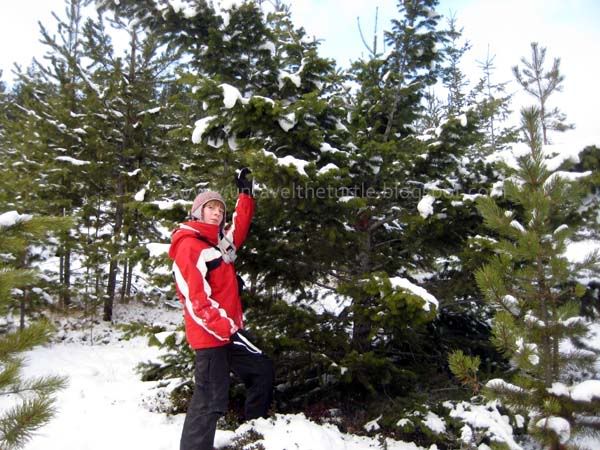 I was pretty sure that this tree with about 5 tops on it was the best tree I'd ever seen, and that we should totally cut down it's amazingness and haul it home. Now that I think about it though, I don't think it would even have fit in the living room let alone through the door.
It took us more than an hour of wandering around a hill before we found a wonderful tree sitting all alone in the middle of a small field! I wonder why no one had cut it down yet, as I'm pretty sure half the people here go up into the hills for Christmas trees every year~
My brother took that picture as I stood in the bushes looking around.../ posing...haha aaanyways.
I do seem to spend a lot of time outside, hey?
So after we got our tree, we had hot chocolate and cookies and then drove home. When we got home I decided to actually try out my lipstick.
(yes Sasha, I know it took me forever to buy some~ shh. Actually, I just bought a hair straightener maybe 2 years ago, but I have randomly used other people's before that! )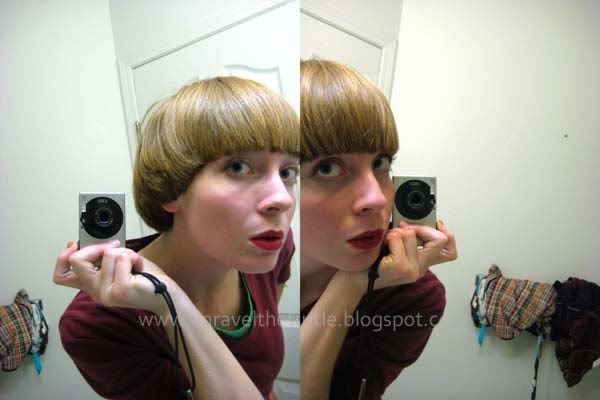 Those are actually pretty good pictures of the front of my awesome new haircut too, come to think of it! I look kind of tired though, sooorry! I really don't like using a mirror to take pictures, but me just holding the camera in front of me wasn't working as well so I gave in.
SUNDAY!! ..(which is also TODAY! )
Sunday started off with this thought:
Did any of you fine bloggers ever collect beanie-Babies? I did when I lived down in the states, and I still get one every year on top of my stocking on Christmas morning. They are the kind of things that little 8-year old children will probably lust after forever. I mean, who doesn't want a pile of beady-eyed dogs staring at them while they sleep?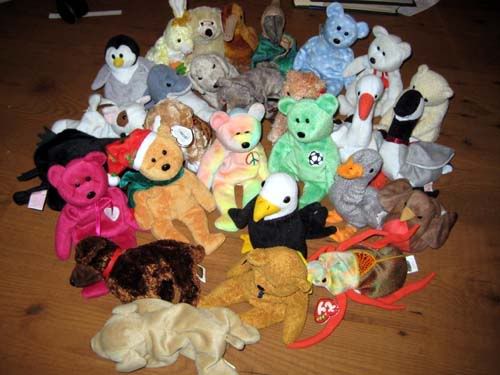 That's my personal collection there. I remember hunting for the bald eagle one for weeks.
Alright! Before we decorated the Christmas tree, because I can make you all wait for that wonderful jem of the holidays a liiiittle longer, my brother and I went to jump around in the SNOW!! BECAUSE IT SNOWED!! YAAAAAY! It's all fluffy and magical and cold!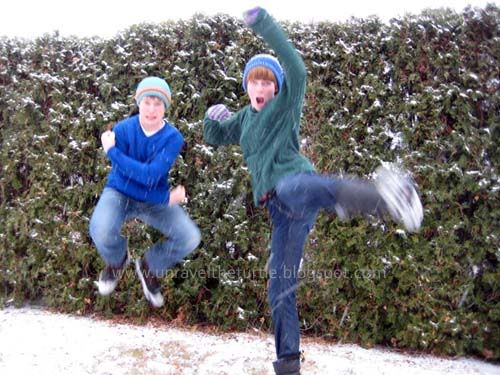 Ohh it takes talent to high-five in mid-air!
I think that last one there is the best picture of the both of us I've ever taken! It lets you all know I'm secretly a ninja with a blue hat, and Brendan is not-so-secretly a leprechaun with a blue sweater. ahh It's the Most Wonderful Time of the Year!!
And now, without further stalling with rediculous pictures, our tree!
TADA! It's pretty, no? I like the red ribbon the best, but that might just be because I'm the one who wanted it, and put it all up. :D
And here is my Blogging-Christmas-card! To..anyone who wants it? haha
I'm not sure when I'll post next, but certainly before I leave for Victoria.
Ciao!