I'm sure you have a vague idea of what I mean by that title. hm?
The sort of thing that makes you have to go home from school early and spend the rest of the day in bad mood with hot drinks, hmm?
It got better though! :D
I was feeling yucky in my Biology class and my friend walks in and hands me a Timmy's Hot Chocolate. <3! I love you Bree!
and...
What I wore today!
(for half the day)
Sweater(unknown), Old navy Jeans, Thrifted crystal necklace from my friend's mom, bamboo socks
Arn't those pictures just oozying arty and deep personalitiy traits? ha! I don't think so either, but the lighting was pretty cool regardless~ My favorite part is the different coloured music-stands in the foreground. I'll have to remember to stick them into more photos.
On the topic of music GUESS WHAT??!! (!!??) My Grandman, being absolutly AMAZING...-building suspense-..-badly-...GAVE ME HER MANDOLIN!! I own a small stringed instrument now! I'm so excited! I'll be sure to become amazing at playing it, don't you worry your pretty little heads about it.
The other cool thing that happened yesterday was that I got a hamster! Told you!
His name is indeed Brutus Bernini and he's addorable! Not used to being held yet, but we're working on that.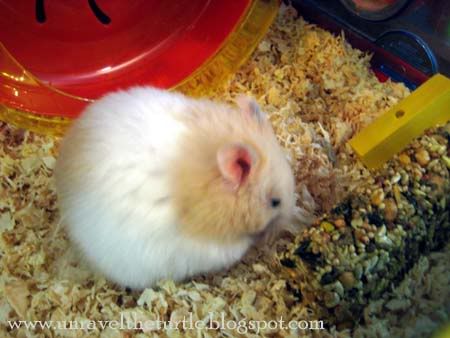 Yes, yes...he's blurry. Hamsters mover a lot, ok?
On another note, before my last picture of the day, I just figured out how to take the photobucket link out of my picture's html coding! Aren't you all proud? It only look me 4 months of blogging to get that working! haha
Leftover from Halloween!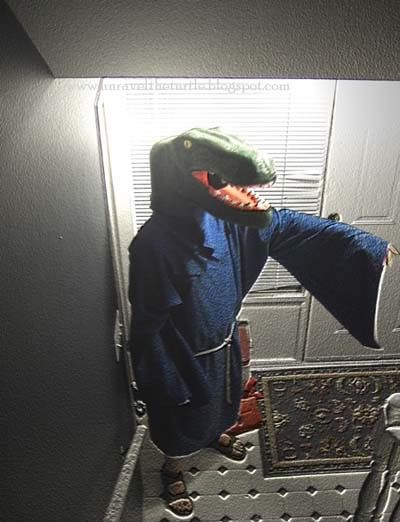 My brother was Raptor-Jesus. I told him if that was to offensive to people at school that he should shrug and say;
"Alright, I'm your Dinosaur-Savior." Or something.
He actually made that mask! Crazy huh? I seem to have an industrious family!
haha I said I was about finished but I lied.
Sorry!
I started volunteering at the little museum in town today, and I get to help put together a display on the past 100 Years of the Canadian Navy. I'm looking though piles of old newspapers (originals!) from 1939 right now, and writing down everything I come across that mentions the Navy, or the wars.
My conclution for the day?
This town looks the same. The only difference is that hats were only 2$ a peice and the theatre played Bela Lugosi and Boris Karloff films.
Poo.