So hey guys, I'm looking for my prom dress right now, and it's really hard! I just lost one that I really liked to someone else on ebay ( darn ebay). I was wondering though, if anyone comes across a dress for sale that I might like could you please send me a link? Thank you so much!
This is what I'm looking for in a prom dress:
-full skirt (hopefully), just below knee length-ish
-No sleeves.
-green, or yellow? or purple, even...maybe
-under 300$ preferable! (I'm not rich~ haha )
-1950's vintage dresses = love!
If you could help that would be wonderful! :D
As for
What I wore today: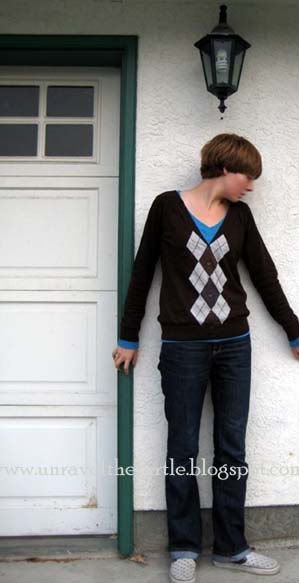 ( Tommy Hilfiger sweater, Gap blue long-sleeved shirt, Old Navy jeans, Slip-on VANS )
Apparently there is actually a Tommy Hilfiger store in the mall near me, and it has been there for ages and I just never knew! haha shows how observant I can be! They do have some very nice sweaters in there, that's for sure.
That blue shirt (now I have .... 2 whole blue shirts! whoa! haha) is so soft I can't even believe it! 40% Modal, 60% cotton is a very good combination. I had to look up Modal, and apparently it originates in India and is made from reconstituted cellulous from beech trees. Go figure.
Leftovers from Halloween!!
I thought my brother's fantastic pumpkin deserved to be adored by whomever comes across my little blog here.
Isn't it great?! He spent at least 2 hours carving that illistration into the pumpkin with chisels from the garage.
Alright! I should actually go do my math homework now...I guess... :o
But for tomorrow!
That book I posted pages of
Way Back Here
should be done being made tomorrow, and I can show you all! Maybe even whip up a tutorial if anyone is interested? We shall see!! (how much homework I have)