Guess what could imply an awful lot, actually. In this case it means I bought a dress! It's a lovely little 1950's vintage sundress and I can't wait for it to arrive!
Isn't it just darling? (yes I did just say that) It's a floral 'painterly' print on silk and I'm so excited! It's totally not the colour I was expecting, but I do seem to have a thing for that shade of blue right now.
I think I'm going to add a golden-yellow sash around the waist that would trail off the back...maybe.
What colour of shoes? :o
What I wore! (yesterday -cough- )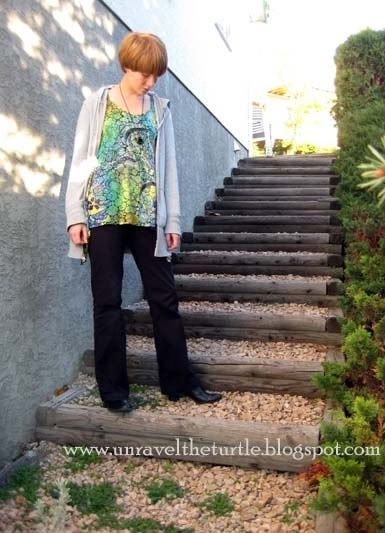 ( Bellina avant garde top, Old Navy long grey sweater, jeans from Dynamite, Boots? )
Don't you just love it when you are using the self-timer on the camera, but you can't tell if it has actually gone off or not yet, so you stand around in the same possition for way to long as passersby wonder what on earth you're up too?
I do.