I created a little turtle (a large version of banner-turtle up there!) for my friend's birthday, and a quilted case for one of her electronic companions.
But how to wrap them?
I believe that the wrapping of a gift should make it look as interesting as whatever is inside is! I usually wrap things in some form of brown packing paper with twine and sealed with wax and a metal seal. Today, however..I have time on my hands (er...didn't want to so my homework so) I decided to try something more complicated!
You know those flowers you can always buy around Christmas time? Poinsettas, or something?
Her present looks like one now.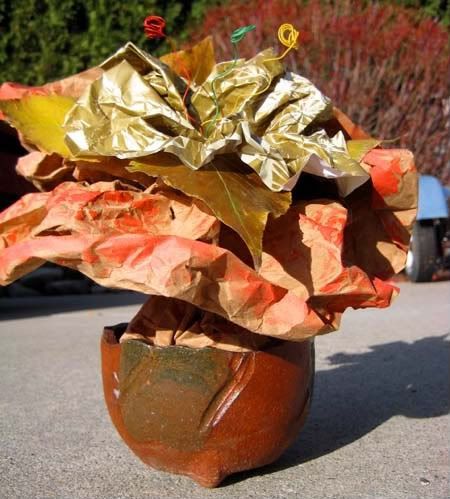 Isn't that cool though? The actual gift is in the pot, at the very bottom of the giant paper flower.
I started by crumpling a giant piece of brown paper up a bunch of times, then cutting the corners off to turn it into a circle.
Then I putthe gift in the center and gathered the paper around the top, and tied it with a ribbon! I bunched up another piece of gold paper and tied that too, then glued the bottom of the gold flower into the center of the brown one. Aaaaand then I painted the brown paper with highlights of red.
Tada!
I hope she doesn't tear it! :D
Happy Birthday Sam!
Also, for you're viewing pleasure, and because I don't have a good outfit for today, since I've spent all day painting and doing homework...The birthday-card that goes with the flower!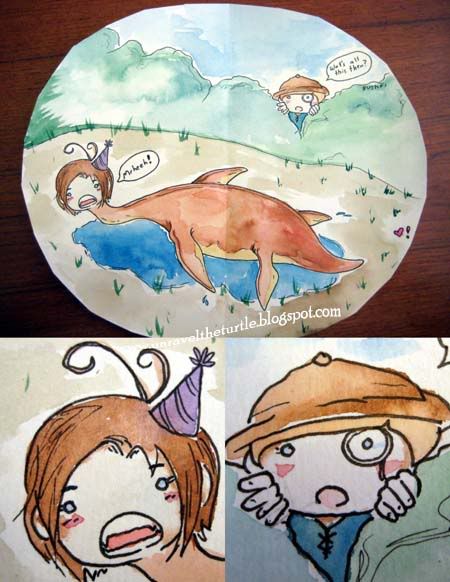 I'm the British explorer with the pith helment and monocle in the corner, and my friend Sam is the Plesiosaur. hahaha ><
(so much fun drawing that!)
Ciao guys! Have a great day!