Not really the feeling so much as the colour. I'm wearing blue, the mug my hot chocolate lives in today is blue, some of my nails are blue (ans some are yellow) and I've tried on (and photographed!) two different blue dresses today!
The sky isn't blue though. Oh well, can't have everything.
Do you ever have those days where you know you should be super busy doing something, but you really don't want too? It's almost like you
want
to be bored just for the heck of it! Take today for instance. I wish one of my friends would call up and save me from my boring studying, and yet I don't really..because it's sort of nice to sit around alone and read, and drink lovely hot chocolate filled drink once and a while, right?
Yes, yes that's right.
So here we have the first dress I tried today! Both of them were hunted out of my mother's very VERY blue-oriented wardrobe. I don't know when exactly they are from, since my mother hasn't bought dresses for ages, but if I had to guess I'd say..early 1990's, or 1980's.
It has buttons all the way up the front, but they were cleverly hidden by a little flap. All except for the big shiny one at the very top. This dress really is to big for me, and I had to fashen the belt by its very last hole, and it still was very loose. If I was ever going to wear this dress I would get the whole thing taken in an inch or so, I think.
Second Dress: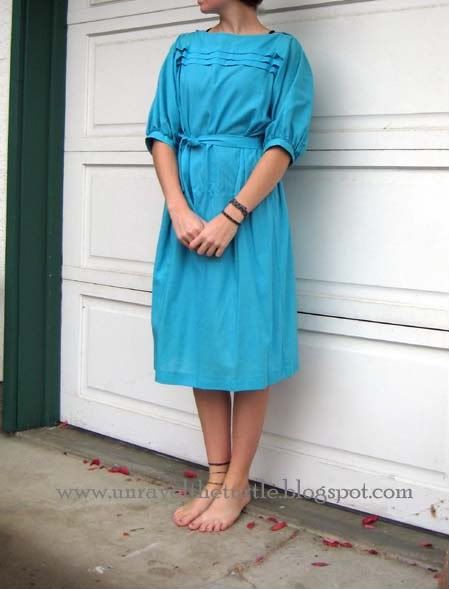 Sorry for the lack of head, my hair wasn't actually dry yet...and it looked really weird!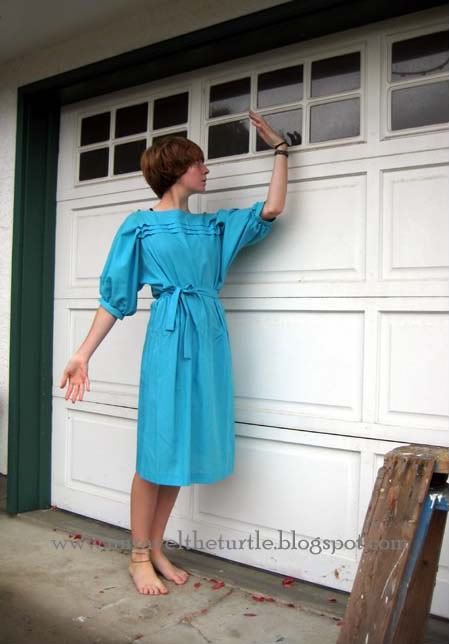 Hurray for the puffy sleeves! The neck line of this dress was the kind that is sort of..just a slit? I have no idea of the right words, but it was jsut a slit. There were little buttons on the sides of the neckline, in case you wanted it to fall off your shoulders or something? haha I don't know!
I actually sort of liked this second dress better than the first one I tried on. It's a shame she threw out Hawaiian dress when I wasn't home, or I would have hourded it away somewhere. Now
that
was a pretty dress! I have a picture of it buried on Deviantart.com, actually.
And now for what I Actually wore/am wearing today!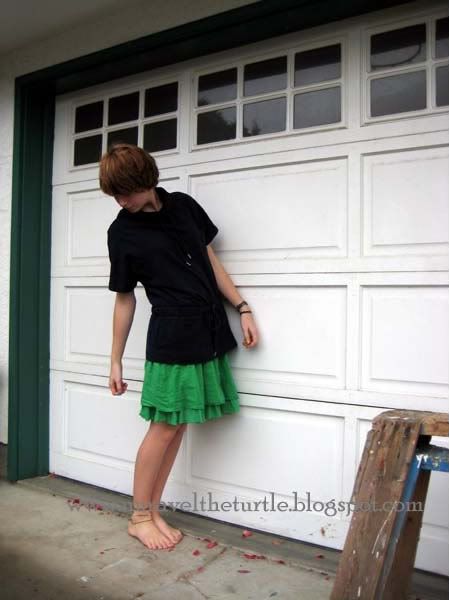 ( Old Navy poncho sweater, Gap ruffled skirt, Bluenotes black tanktop )
This skirt I have worn previously in a photo in this blog someplace, but it looks rather different. For today's outfit I turned the skirt inside out! There was a tage on the side but I picked it out with a stitch-ripper and now you can't even tell it's inside out! (There is a tag at the back, on the waist-band..but with this long poncho on, who would see it? haha )
That poncho is actually dark-blue, but the photo doesn't show it well at all.
Going to see
Where The Wild Things Are
tonight with my family! So excited!