I have excited news! The wonderful Canadian comedy-folk musical trio the
Arrogant Worms
is coming within a 40 minutes of me on Sunday! I hope I can go, it would be amazing! Their songs are so funny, seriously everyone...go listen to a few. I recommend 'Pirates of the Saskatchewan', and 'Canada is really Big'. :D
Alright, it's picture time! (because nothing else seems to have happened...)
Firstly, here is my lunch. Not because it was very good (it wasn't...at all) but because when I picked up the spoon, it said AH.
It actually said that! I swear I didn't arrange them at all~ spooky huh? ...maybe..?
Because my outfit was set up for doing print making with perminant ink today, it wasn't interesting in the slightest (besides the forever-shifting 3 shirts I had on). But those are my favorite socks I was shuffling around it all afternoon!
...that is a post, and some grass, on my way to photograph the lastest hat that I've just finished about 2 days ago.
With that in mind, this hat is also a Christmas present for a friend, so...DON'T LOOK DEKAR!! DON'T LOOK!
I'll leave masterful spaces just incase you are looking...
larges spaces.
There..that should be safe enough.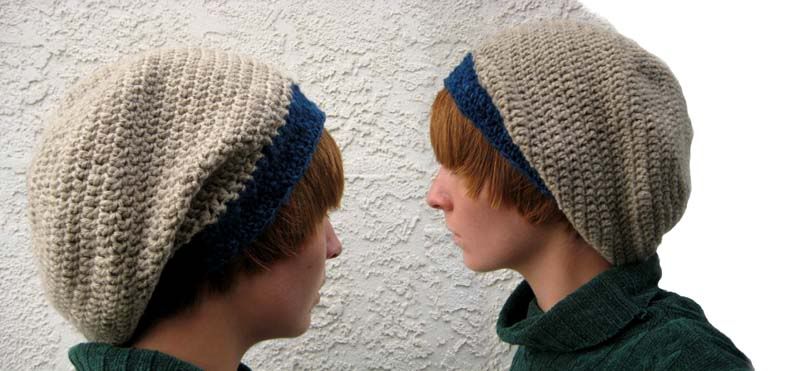 So this had is made to hold a lot of hair; I've actually folded it into itself in order to get it to look alright on my head. It's about 24inches around at the band, and 30 inches around at the widest point.
The Body of the hat is made with Lionbrand 'Fishermen's Wool', which is natural, undyed sheep's wool and I love love LOVE IT! I know I did a post earlier on it too. <3 awesome stuff guys...really! It's a double crochet using a size 4 hook.
The Rim is made from hand-sheered, hand-carded, hand-dyed with a natural indigo dye, and then hand-spun on a drop spindle (by me. I only did the spinning though, the rest was done by someone else on a fibre-farm), and then wound onto a niddy-noddy and everything else I showed in another post.
It's a single crochet using a size 5 hook.
Man, I'm sorry if this hat turns parts of your face blue! It still comes out of the yarn a little. Sorry!
And..now I'm just wasting time, because I know there is a ton of math homework lurking in my backpack! haha. eeh. Good thing it's Friday!