As I spend a lot of my time making things, I need lots of ideas coming my way at every possible moment. One day I woke up and thought 'Hey...why can't I make my own shoes?"
The shoe industry is mostly dominated by massive companies who produce man-made products, where you couldn't even find anything natural even if you looked at them on a carbon level or something! Mass produced shoes are not that fabulous, and almsot never fit the way they should.
My first shoe project is from last summer (2008), where I was remaking a pair of beloved converse which had died. I used orange leather, and purple suade(?) picked up from a local supplier. Tada!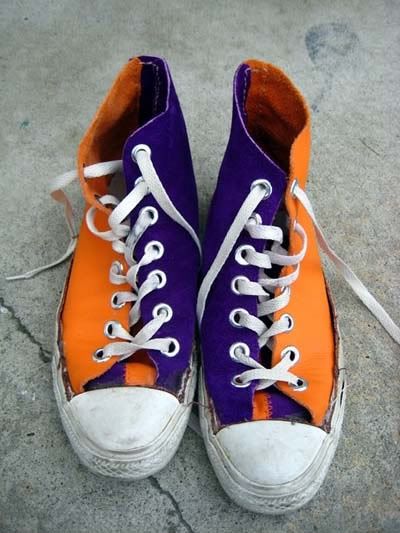 After wearing them on and off all year, the leather stretched a bit. This was good, because they were a little tight in places to begin with.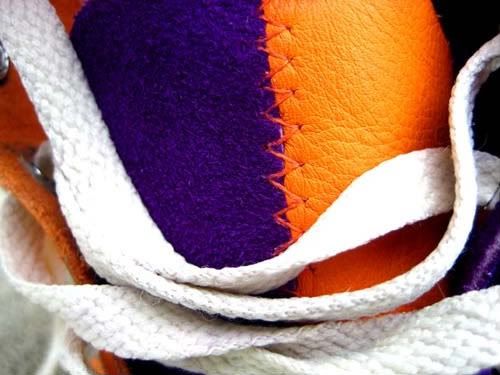 (close up of the hand-stitched double coloured tongue) (( this was my brother's idea))
I think they came off rather well, considering I'd never done anything of the sort before in my life! Not bad at all~
SO! This year during school, I was walking around the walls and low and behold, my poor flip flop breaks. I rushed it to the art room and tried to use epoxy to hold it back together but, alas the rubber would not support the glue. ):
So I decided that most store-bought flip-flops break quickly anyways and it would be better if I made them myself!
I then hurried to the tack-shop where I get my leather (they know me now) and got a pile of hard leather that they use to make horse saddles with and rushed home to make shoes!

:D They looks great! (I think, at least) I made a pattern using my foot, and the broken flips flops I have previously. These shoes have 3 layers in the sole, the top, the bottem, and a smaller one inside for extra support. I used Shoe-glue to attach them together then stitched all around with my beloved leather awl.

(close up of the part between your toes!)
I painted the stitches on the very bottem with 2 lays of Mod-Podge sealer/glue stuff to..keep them sealed. I also painted Mod-Podge all around the edges where the leather is open to the world!
Today's Crafter's best friends!
#1 Strong cloth scissors: You need these. I'm not kidding, they are so very useful! Just remember never to cut paper or plastic with them as to not dull the blades, and you'll be alright. This pair has served me well for a few years now, and even managed to hack through the saddle leather for my flip-flops with not to much hardship.
#2 Leather Awl: It is almost crazy how awesome this thing is. I use it all the time. I even think if you had a survival kit or something for camping, you should throw one of these in. You never know! (just make sure to put the needle back inside when you are finished..it's very long, and is actually triangual on the end)
#3 Waxed thread: The best you can get for the Awl. I got this roll at MEC a few weeks ago. It's pretty awesome in general.